STRUM】【∀】2023-24 A/W advance reservation party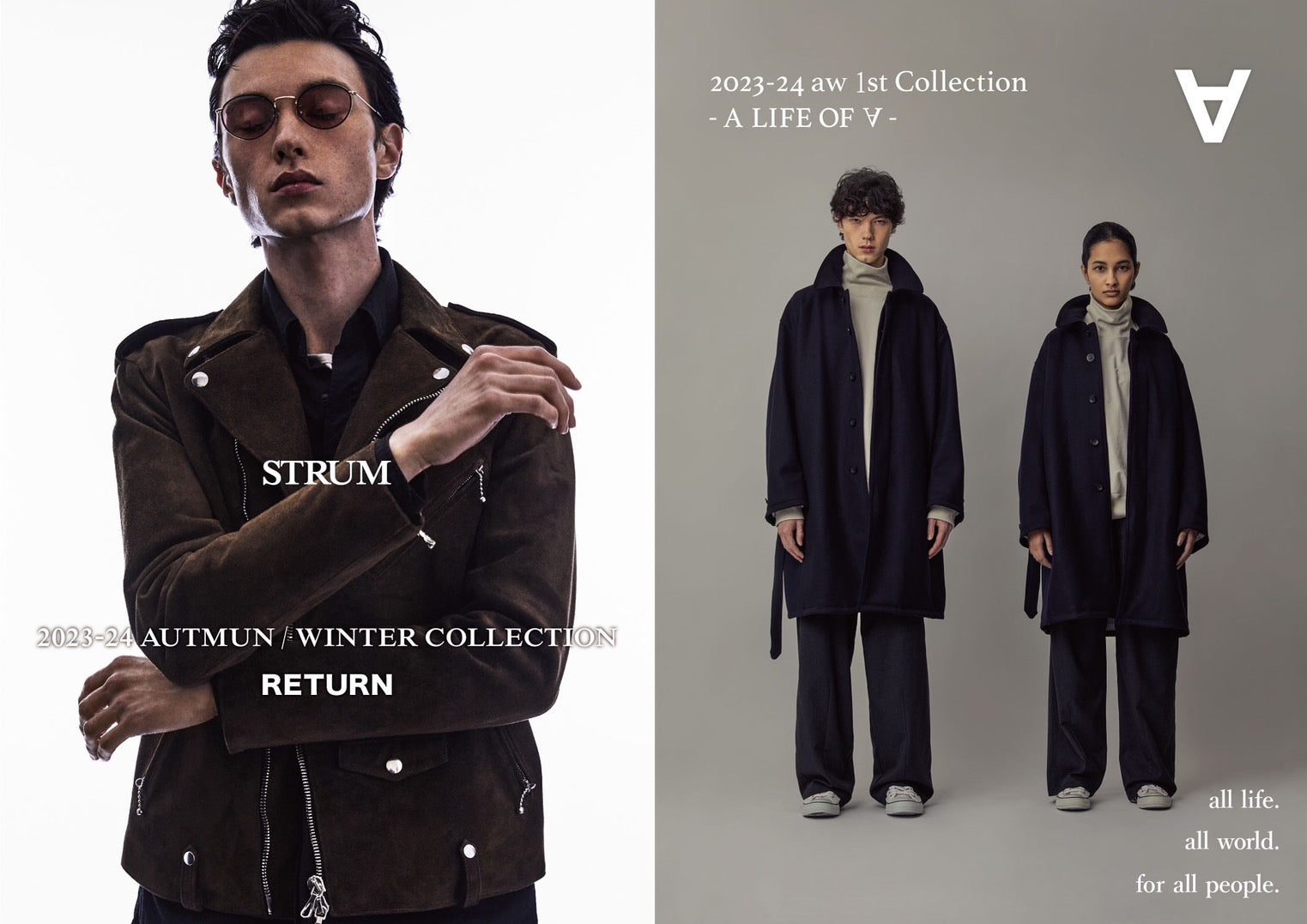 "STRUM" "∀"
2023-24 AUTUMN / WINTER
STRUM" and "Turn A" 2023-24 A/W customer pre-order event in stores and online store in stores and online store. The following dates and times will be held at stores and online stores.
STRUM"
2023 AUTUMN / WINTER COLLECTION
"RETURN"
This collection marks the 10th anniversary of the brand.
As the 10th anniversary model, we have produced studded riders for the first time in 10 years, as there have been many requests to re-release them since their release in the 1st collection.
The Burning Dye series, in which leather is dyed by burning it, is presented for the first time in BLACK, which is dyed twice by burning it with different density of black.
The lineup of the horse suede series has been strengthened as leather wear for adults, and the "Pit tannin shrink steer" series, a new type of leather with a strong and dignified look, has also been introduced.
Patterns that evolve each season to make them easier to wear. In addition to the riders, woven and cut-and-sewn items have been brushed up, and new challenges are being taken on.
"∀"
2023 AUTUMN / WINTER 1st COLLECTION
"A LIFE OF ∀"
TURN A The symbol for the whole name. The symbol for "all. With the theme of "genderless" and "borderless", the collection combines different materials and blends naturally with each other. The brand aims to create clothes with a playful spirit that can be worn in every day life, with every attachment, and by every person.
This is the first collection of "Turn A".
The collection is standard, simple, yet military-inspired, with items that highlight the silhouette and feel of the material through extensive use of different materials and fabrics.
The items are available in sizes that can be worn in any style, regardless of body shape, age, or gender, and combine comfort and materiality.
This will be an opportunity to see the entire collection.
We hope you will take a look at the actual items in person.

We are sincerely looking forward to seeing you at the exhibition.
This is a rare opportunity to see the entire collection.
*At the pre-order event, we also accept semi-orders (free of charge) to adjust the length of the leather garments and sleeves.
---
at FLAGSHIP SHOP
[DATE]
4/1 (Sat) 12:00 - 20:00
4/2 (Sun) 12:00 - 20:00
4/3 (Mon) 12:00 - 20:00
Anyone is welcome to join us on these dates.
[place]
STRUM FLAGSHIP SHOP
2-3-1 Higashiyama, Meguro-ku, Tokyo 153-0043
STRUM SECTION 1F
03-6303-0696
[ ACCESS]
・10 minute walk from Nakameguro Station on the Tokyu Toyoko Line (along Yamate Dori, past Don Quijote, on the left).
・Take Tokyu Bus 33 at Shibuya Station bound for Oimachi Station (Shibu 41) or Osaki Station West Exit Bus Terminal (Shibu 41). 1 minute walk after getting off at Sugakari Elementary School.
---
at ONLINE STORE
[Period]
from 21:00 on March 31 (Fri.)
The URL of the reservation page will be posted on the top page on the same day.
Due to production reasons, we may stop accepting reservations for certain items during the period without notice. Also, due to various reasons such as materials, we may have to cancel the pre-ordered items. We appreciate your understanding.
The end date will be announced at a later date.
---
About Reservations
Please contact us at
for payment information. We will ask you to pay half or the full amount of the product price as a deposit when you make a reservation.
Payment methods:
In-store: Cash, credit card, and PayPay are accepted.
Online store: Credit card, PayPal, bank transfer, and Paidy are available.
For in-store reservations:
We will contact you by phone after the product is completed.
At that time, you can choose whether to pick up your order in person at the store or have it shipped to you.
For online reserv ations:
We will contact you by email after the product is completed and ship it to you.
If you have reserved an item with full payment, we will ship it by prepayment. If you have reserved an item with half payment, we will ship it by cash on delivery (COD) for the amount equal to the remaining half plus the COD fee.
About custom orders
For leather wear, we accept semi-custom orders (free of charge) in which the sleeve length and fitting length can be adjusted based on each size.