STYLING SNAP VERSION 2020.11.15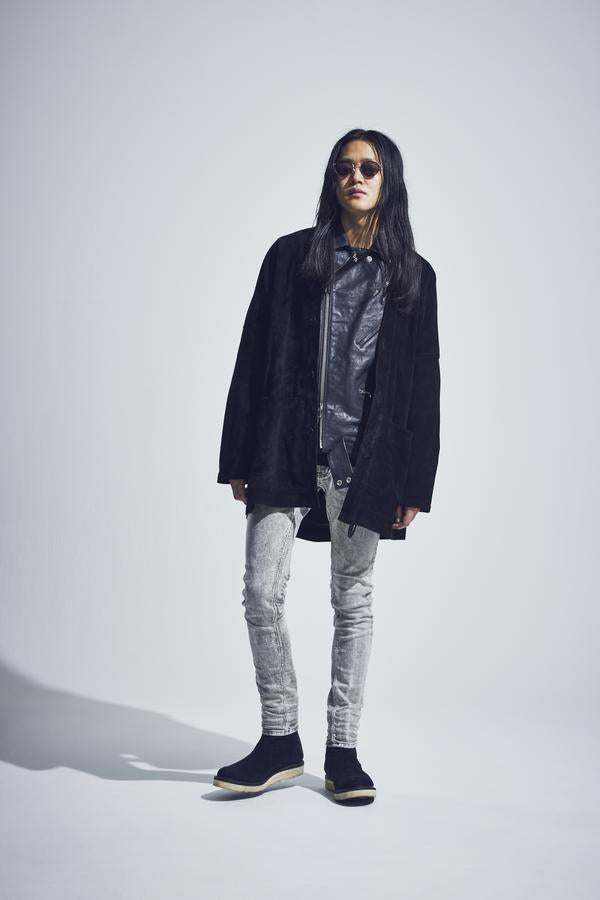 2021 SPRING / SUMMER COLLECTION "UNION"
Thank you for visiting many STRUMMER held at OFFICIAL STORE the other day.
Little by little, we will introduce the atmosphere at the venue, this time we will introduce BUYER who visited us and FRIENDS wearing STRUM! !!
rifu BUYER MR.SUZUKI
"Domestic full tanned steer garment dyed Single Riders Jacket".
For the inner of full tannin single riders with a textured texture
The denim shirt is IN, and the casual layering is a professional technique.
Morning Glow BUYER Mr. TANAKA
"Domestic calf skin "RAVEN" Double Riders Jacket"
The soft, moist and matte leather is firmly worn to increase the unique luster, luster and softness.
Mr. SAKASHITA
"Burning dyed Domestic full tanned calf skin "SPEEDER" Double Riders Jacket"
The Burning series, which is synonymous with STRUM, gives a completely different look to those who really wear it. Originally, the bright blue hue had shades and was more astringent.
Mr.KOJI UENO
"Domestic calf skin Wash Single Riders".
The more you wear the rare leather jacket from STRUM's first collection, the more you embody your shape.
Mr.HIROSHI ARIMATHU
"Tiger duck pigment print tapered pants".
The tapered type pants with a camouflage pattern keep a stylish mood, but do not give an overly stoic impression, and while adding a moderate amount of spice, a good feeling of adulthood is produced.
Mr.KANEDA & Mr.HOSHINA
"Pit full tanned tanning Shrank Horsehide "SPEEDER" Double Riders"
"Domestic full tanned garment dyed Single Riders Jacket".
While trying on the samples, I was at a loss, and flowers were blooming in fashion coordination and leather discussions.
Mr.SAKAI
"Angora wool Shaggy Check shirt"
The check with suppressed color and the length of the angora fiber's hair are gentle and soft, giving an adult impression.

Enjoy Fashion!