20022-23 A/W "REPLICANT" START!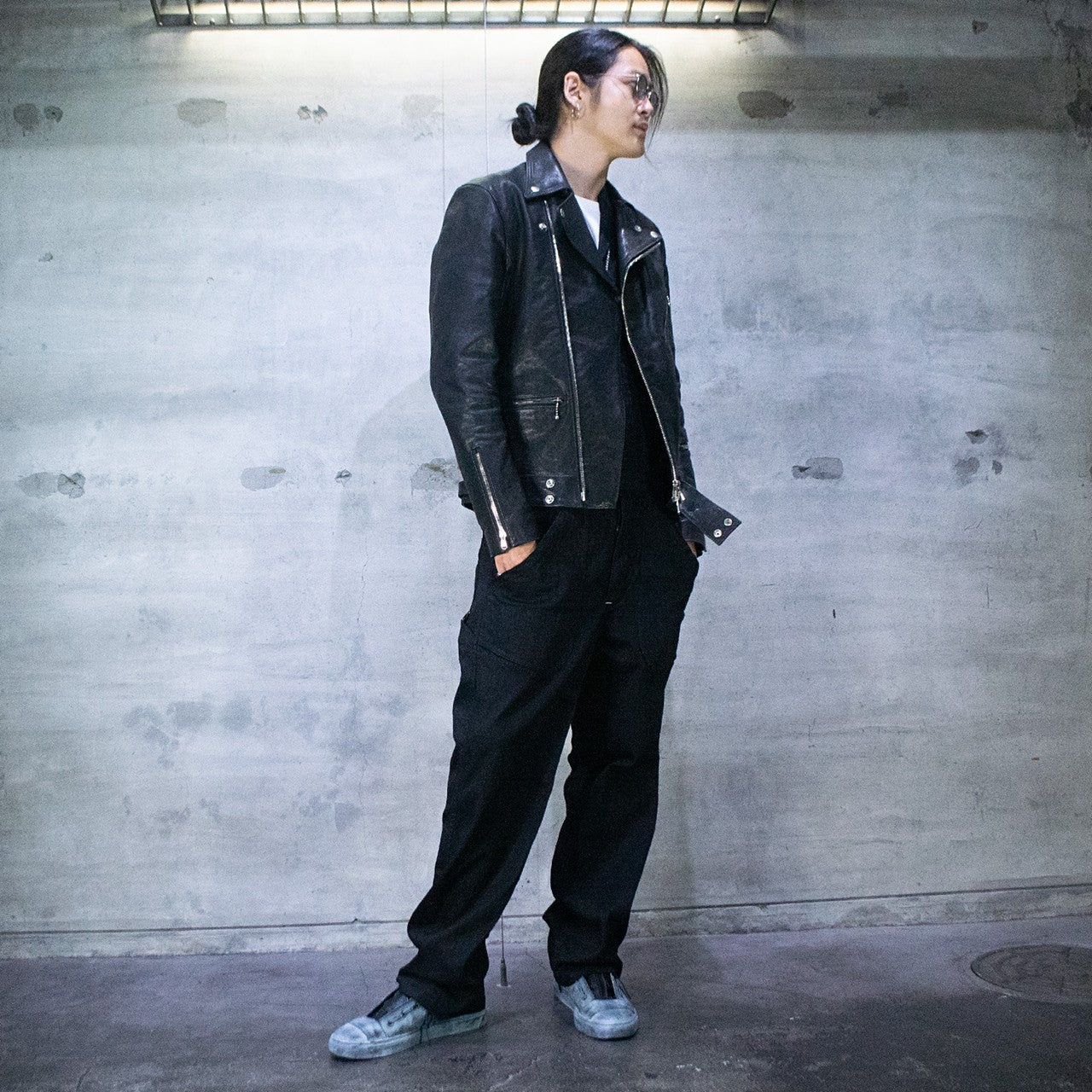 Full tannin for the start of autumn/winter pit tanning Shrink Starting with Horsehide Sereys!
STRUM 's new"FaceFull tanning", which has become the " Pit-Tanning Shrunk Horsehide " from the " Full Tanned Pit-Tanned Horsehide" series. SPEEDERis now available .
Leather Characteristics The new series is made from pit-tanned, shrink-wrapped horsehide. MODEL and Fitting and from three different perspectives!
Full tannin Pit-tanning Shrink Characteristics of Horsehide】:It dares to use only horsehide with particularly many scratches, and by shrinking it, the natural grainy texture is accentuated.
The leather is made from only horsehide which has a lot of scratches and is especially scarred.
... Pit-tanning The tanning process takes a long time, using a facility called a pit tank, which looks like a huge bath filled with tannin agent.
Pit-tanning is a process in which the leather is soaked in tannin for an extended period of time, resulting in a strong and sturdy leather with a natural texture.
Pit-tanning Shrinking After pit-tanning, the fabric is dyed and heated, and then shrunk to half its normal size (from about 2m to 1m) to accentuate the natural grain.
This process combines the scratches of horsehide with the grain of the shrink to create a rugged and masculine look that is different from product dyeing.
SPEEDER Features]: STRUM No. 1 popular model released in the most types of leather.
The diagonal pockets and flap belt on the front chest and left arm are eye-catching "SPEEDER".
It is a so-called "long john" type with an adjuster type belt on the side and a flap belt to prevent damage to the tank of a motorcycle.
The underarm gussets allow for a wider range of arm motion, and the jacket is designed to be comfortable while maintaining a tight appearance.
Fitting Characteristics]: The fitting silhouette and size are unique to this leather.
Most of STRUM is 8mm thick, but this pit-tanned shrink horsehide is 9mm thick.
This leather, which means in English Shrink The leather, which means "the leather of the earth" in English, is dense, thick, and firm to the touch.
Therefore, it can be made by elbow expansion and contraction. Arm wrinkles The leather is also very durable, so you can enjoy your own unique change over time.
The leather is also stretched by the unique stitching, making it about half a size larger than the standard JAPAN OIL CALF.
Enjoy Fashion!
Model: 178cm/55kg
SNS
instagram: https://www.instagram.com/strum_official_store/
Twitter: https: //twitter.com/STRUM_OFFICIAL/
YouTube: https: //www.youtube.com/c/STRUMCH
TikTok: https://www.tiktok.com/@strum_official
LINE: https://lin.ee/JhEOnlg
500 yen coupon will be given to those who register on LINE!
STRUM FLAGSHIP SHOP
2-3-1 Higashiyama, Meguro-ku, Tokyo 153-0043
STRUM SECTION 1F
03-6303-0696
12:00-20:00 Closed on Wednesdays
https://strum.jp
STL064-01 ( size M)
STJ004-OG01 (Wearing size S)
STC134-02 ( size M)
STJ004-EP01( Wearing size 30 inches)
STB007-01 (wear size 28cm)
STB002-01 (Wearing size US9)