LIMITED REMAKE DENIM SHIRT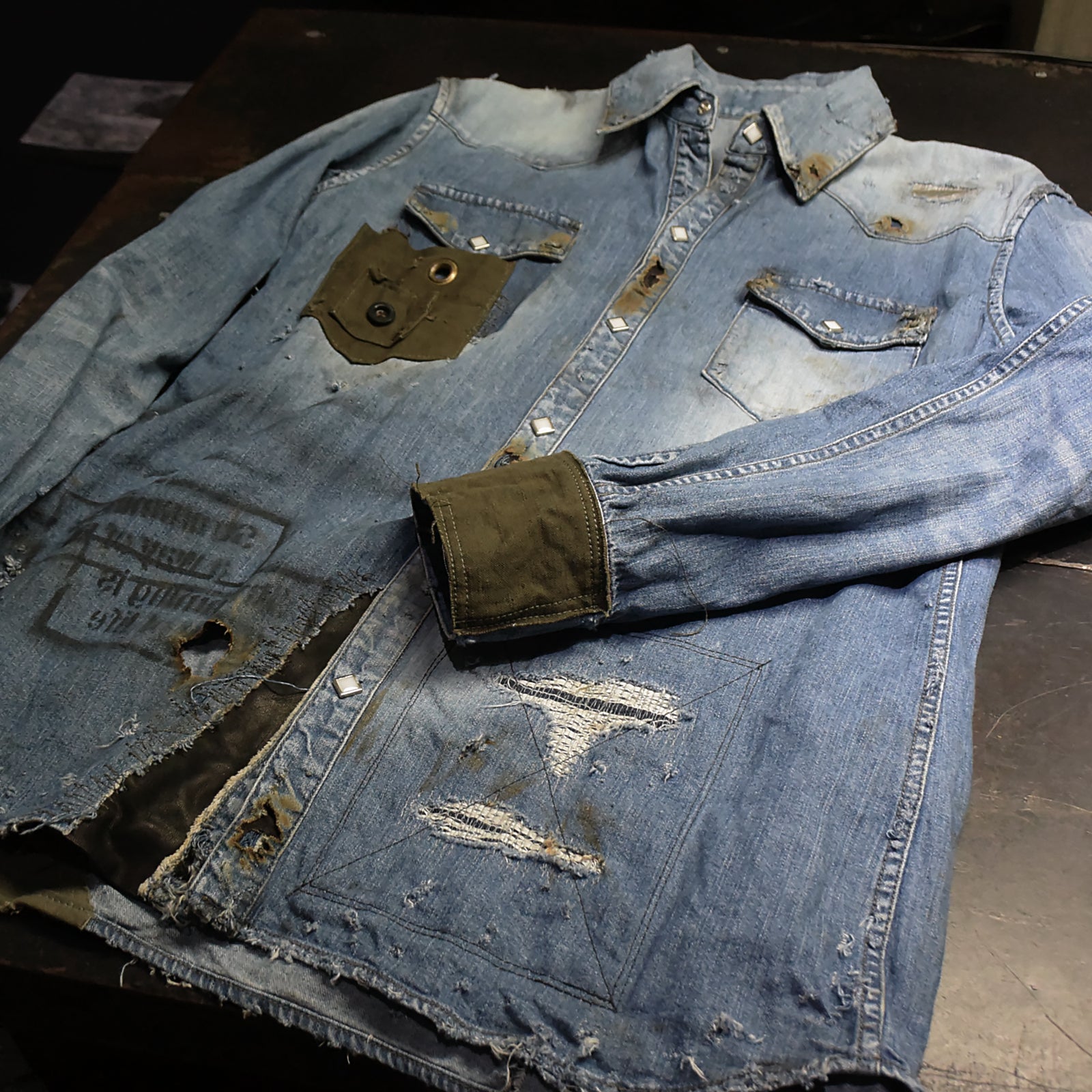 We have produced a special limited item suitable for the end of the year, with only a few left in 2020.
It will be on sale only at directly managed stores and directly managed online stores from 12:00 on Sunday, December 20th.
Year-end Limited Item
"Burning & Real Rust Processing Crash Repair Remake Denim Shirt"
Crash processing based on STRUM's classic denim western shirt.
Full tannin pit tanned horse shrink, military jacket, remake using disassembled parts of the tent.
In addition, it has been stained with realistic rust, and in some places, it has been manually added with numerous processes such as burning and stencils to give it a vintage look.
Limited to 8 pieces (M x 2, L x 6)
STC093-01LS01 / L size
◆ For one of them, STC093-01LS01 (actual item in the above photo) , we will release the artwork created by the designer as a set using the pattern used for stencil processing.


* All items, repairs, processing, etc. will be unique items with different designs.
* Since we use realistic materials such as leather, crush, burning, and stain processing, you can see changes over time by wearing and washing.
* It is recommended that you put your laundry in the net and wash it by hand separately from other items. Please avoid using a tumbler.
* The leather part may shrink or discolor when it gets wet. Please be careful not to leave it wet for a long time.
Eight kinds of one-of-a-kind items are on sale, so I will introduce the details with photos ahead of time.
(The order of listing in the online store)
STC093-01LS02 / L size
STC093-01LS03 / L size
STC093-01LS04 / L size
STC093-01LS05 / L size
STC093-01LS06 / L size
STC093-01LS07 / M size
STC093-01LS08 / M size
Limited to 8 pieces (M x 2, L x 6) ¥ 43,000 + tax
Of which, artwork set only ¥ 53,000 + tax (large size)
| Size Size | shoulder width | Width | Length | Sleeve Length |
| --- | --- | --- | --- | --- |
| M | 44.5cm | 52cm | 72cm | 64.5cm |
| L | 46.5cm | 54cm | 74cm | 65.5cm |
In addition, you will receive one STRUM (Session) KEY COVER for each order.
We will be giving away a Session leather key cover from "STRUM" to express our gratitude.
* It will end as soon as it runs out
During the period, one gift will be given for each order. (Can be used any number of times per person)
* Limited quantity. The gift plan will end as soon as the key cover runs out.
* The type of leather is assorted.
Session "Key cover"
The Italian shoulder and full tannin pit tanned horse shrink, which are also used in the works of STRUM and Session, are used.
| | |
| --- | --- |
| Italian shoulder | Horse shrink |
It is a discerning key cover that is hand-sewn one by one and polished to the edge (the edge of the leather).
The stock of STRUM SILVER ACCESSORY has also arrived.
In addition, a free gift wrapping service is being held during December.
Those who need it can select it on the cart screen. Please use it by all means.