[New arrival] Domestic calf suede series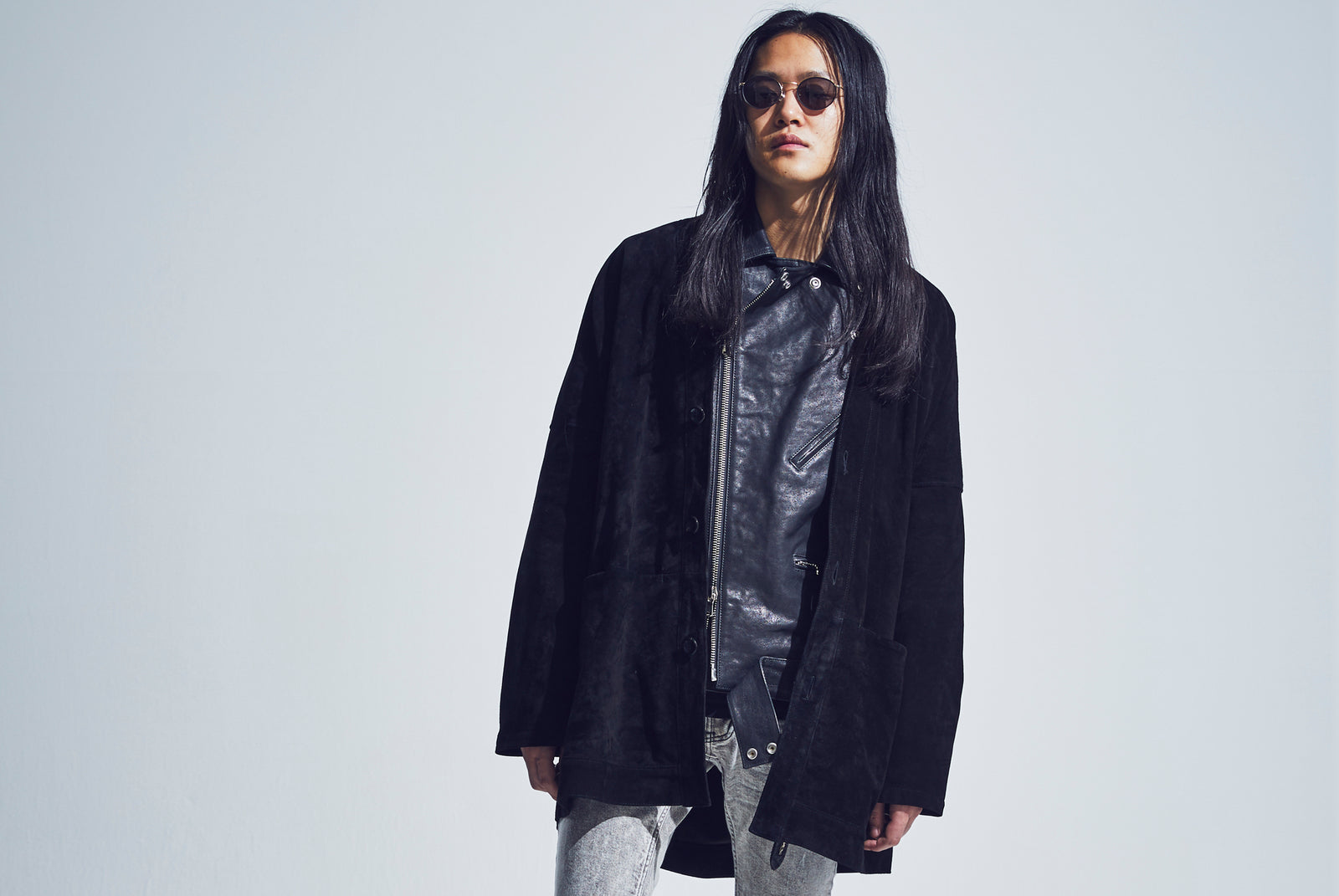 STRUM
2021 SPRING / SUMMER COLLECTION
"UNION"
STRUM 2021 Spring / Summer Collection
Notification of new product arrival.
From 12:00 on Saturday, February 27, you can purchase at FLAGSHIP SHOP , directly managed online stores , and dealers nationwide.
Domestic calf suede series
Smooth and elegant texture that does not seem to be suede.
Leather made by chrome tanning raw cowhide leather of terrestrial calf in Japan.
It is a leather that has the strength, suppleness, and lightness unique to chrome.
The calf is characterized by the fineness of the skin and few scratches, and the suede surface is carefully papered to create a delicate and elegant look.
Pit full tannin shrink Horsehide and leather that can be said to be the "face of STRUM" like the terrestrial oil calf.
In 2021 S / S, in addition to the conventional long sleeve shirt [SCARS], a new model [KURT] is introduced.
NEW MODEL: KURT
KURT is a combination of kimono and knit cardigan details based on an overcoat.
The silhouette is oversized and the base shape is a dolman sleeve drop shoulder.
The placket has no collar, and the details are like the front of a kimono.
A large slash pocket is placed on the front, and the back is accented with a cut-back at the same position.
STL061-05
Domestic calf suede "KURT" overcardigan
A coat that can be worn over a leather jacket.
A feeling of size that you can easily put on the rider's jacket without stress.
Because it is smooth suede, contrast is created by the difference in the expression of the material even in the leather on leather style.
Of course, it can be worn lightly on a T-shirt, so it is an item that can be worn for a long season.
STL061-01
Domestic calf suede "SCARS" long sleeve shirt
A long-sleeved shirt SCARS accented with four bleeds on the front and back.
By using calf suede, the lining is eliminated and it is an item with good cost performance for quality.
The buffalo button is used for the button.
It will be on sale from 12:00 on Saturday, February 27th.
You can purchase it at FLAGSHIP SHOP , directly managed online stores , and dealers nationwide.
Please check it out.