2021 S / S mass arrival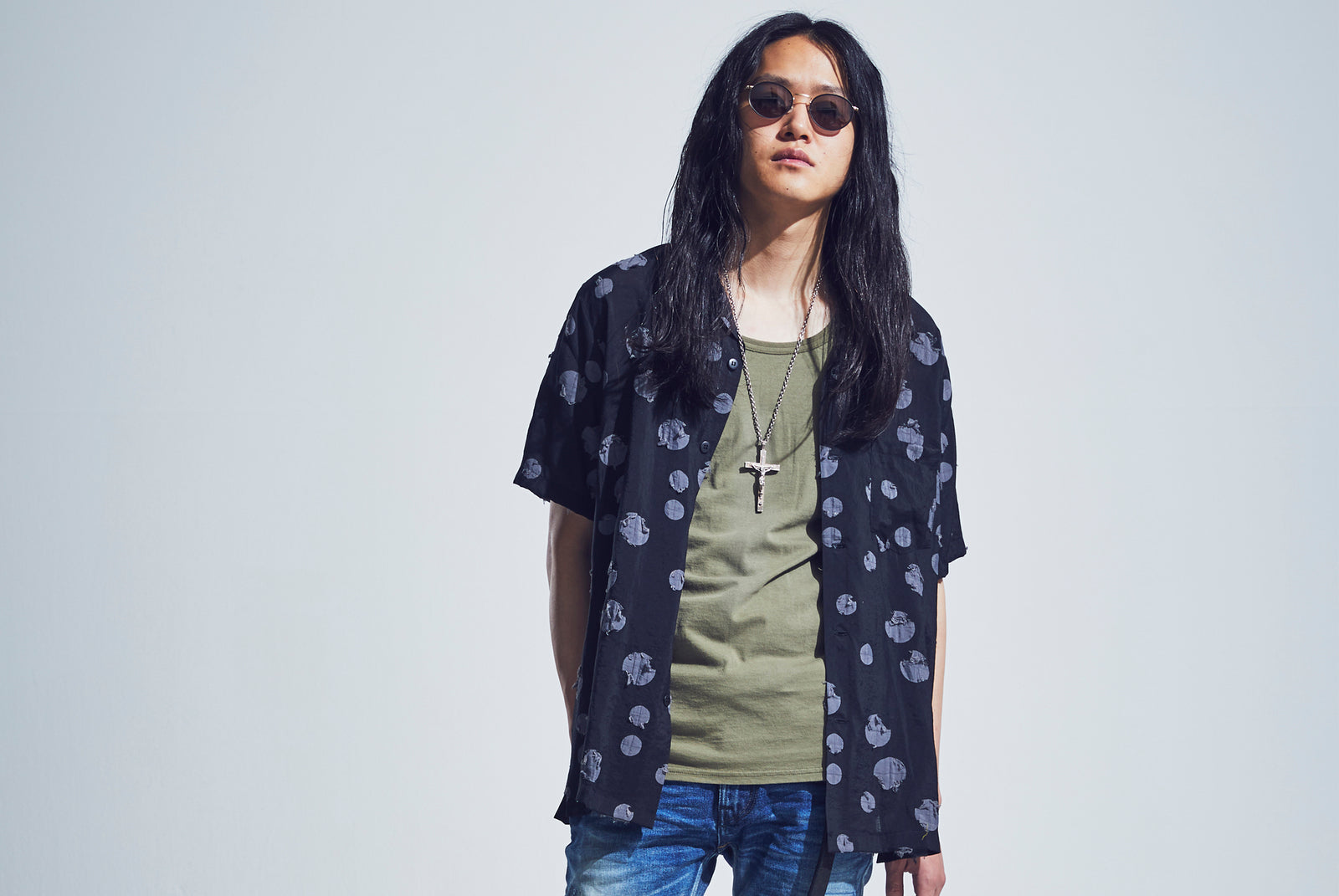 STRUM
2021 SPRING / SUMMER COLLECTION
"UNION"
STRUM 2021 Spring / Summer Collection
A total of 18 types of 9 types have arrived, including shirts and cardigans that will be active in the coming season, bicolor fleece cut-and-sew, and high-quality T-shirts and tank tops that are popular every season.
From 12:00 on March 21 (Sun), you can purchase at FLAGSHIP SHOP , directly managed online stores , and dealers nationwide.
STC137 series
Rayon nylon polka dot (acetate) cut jacquard
Adult polka dots expressed with cut jacquard and two-bath dyeing.
20 denier yarn-dyed nylon yarn for the warp yarn, long-fiber yarn for the weft yarn is cut to make short fibers, and yarn-dyed rayon spun yarn is spun, and acetate yarn is used for the polka dots to create a cut jacquard weave.
After weaving, the black part is blackened and the polka dot pattern is grayed after dyeing (two-bath dyeing).
It is light and soft to the touch, and the unique washer feeling created by post-dyeing brings out lightness and quality.
STC137-01
An open-collared shirt packed with STRUM details.
The front has a patch pocket on the left chest.
The shoulders have a classic cut-back, and the back has darts that extend from the sewn sleeves.
STC137-02
A long cardigan with an adjuster belt that can be worn by adults.
The front has a slash pocket and the back has an adjuster belt so you can adjust the size.
STC137-03
A long-sleeved shirt with just the right amount of looseness.
A feeling of size that is not too thin and not too loose.
The front has patch pockets on both chests, and the sleeves have a classic cut-back.
STC139 series
Natural Dide Cotton Rayon VIERA
A soft material that has been kneaded and dyed for a long time to give it a natural swelling feel.
Using a twisted thread of cotton and rayon, it is finished with a twill weave to give it a glossy look.
In order to make a kneading and weaving base in small lots over a long period of time, the fabric is rubbed with air three times, and by loosening it from the core, the softness and swelling feeling is emphasized, and the original suppleness and softness of the fabric Is a feature.
* Since it is dyed in a small amount with a small amount of shaving, there may be some unevenness and color blur.
STC139-01
A loose-fitting open-collared shirt with attention to detail.
Raglan sleeves with piping made of satin material.
An arrow pocket is placed on the left chest.
The silhouette is about one size looser than the conventional open-collared shirt.
STC139-02
An oversized cardigan that combines the details of a kimono and knit cardigan based on an overcoat.
The silhouette is oversized.
The base shape is a dolman sleeve drop shoulder.
The placket has no collar, and the details are like the front of a kimono.
A large slash pocket is placed on the front, and the back is accented with a cut-back at the same position.
STC133 series
40/20 combed thread mini fleece
Mini fleece with a glossy and soft texture that can be used even in the middle of summer.
Mini fleece knitted with 40 / on the front and 20 / on the back loop using combed yarn with unnecessary fibers scraped off on the surface of the yarn made by twisting cotton fibers.
It is a high-class layered cut-and-sew with thin and light fleece that can be used even in the middle of summer, and has a glossy and soft texture that is characteristic of combed yarn.
STC133-01
For a layered outlook by hitting the common ground of different colors.
The shape is a moderately loose rug lump over.
The cuffs and hem are struck with different colors to create a layered feel.
STC134 series
30 /-Natural soft Tianzhu
Tianzhu that does not easily lose its shape and has stability and functionality.
Using 30 /-cotton yarn, we use a soft and bulging knitted fabric.
It is a tenjiku that is hard to lose its shape and easy to handle, and has both stability and functionality suitable for daily wear.
STC134-01
The hem, which has different lengths at the front and back, is layered for a different color.
The length is set longer so that it can be layered and reused.
The front is straight, the back is rounded, and there is a difference of 3 cm between the front and back.
There are slits on both sides.
STC134-02, 03
STRUM classic cut and sew.
Box pockets on the front and classic cut-backs on the sleeves.
The back is divided by the center and accented with a deerskin code.
STC134-02 is a crew neck and STC134-03 is a V neck.
It will be on sale from 12:00 on Sunday, March 21st.
You can purchase it at FLAGSHIP SHOP , directly managed online stores , and dealers nationwide.
Please check it out.