2023.04.27 Release.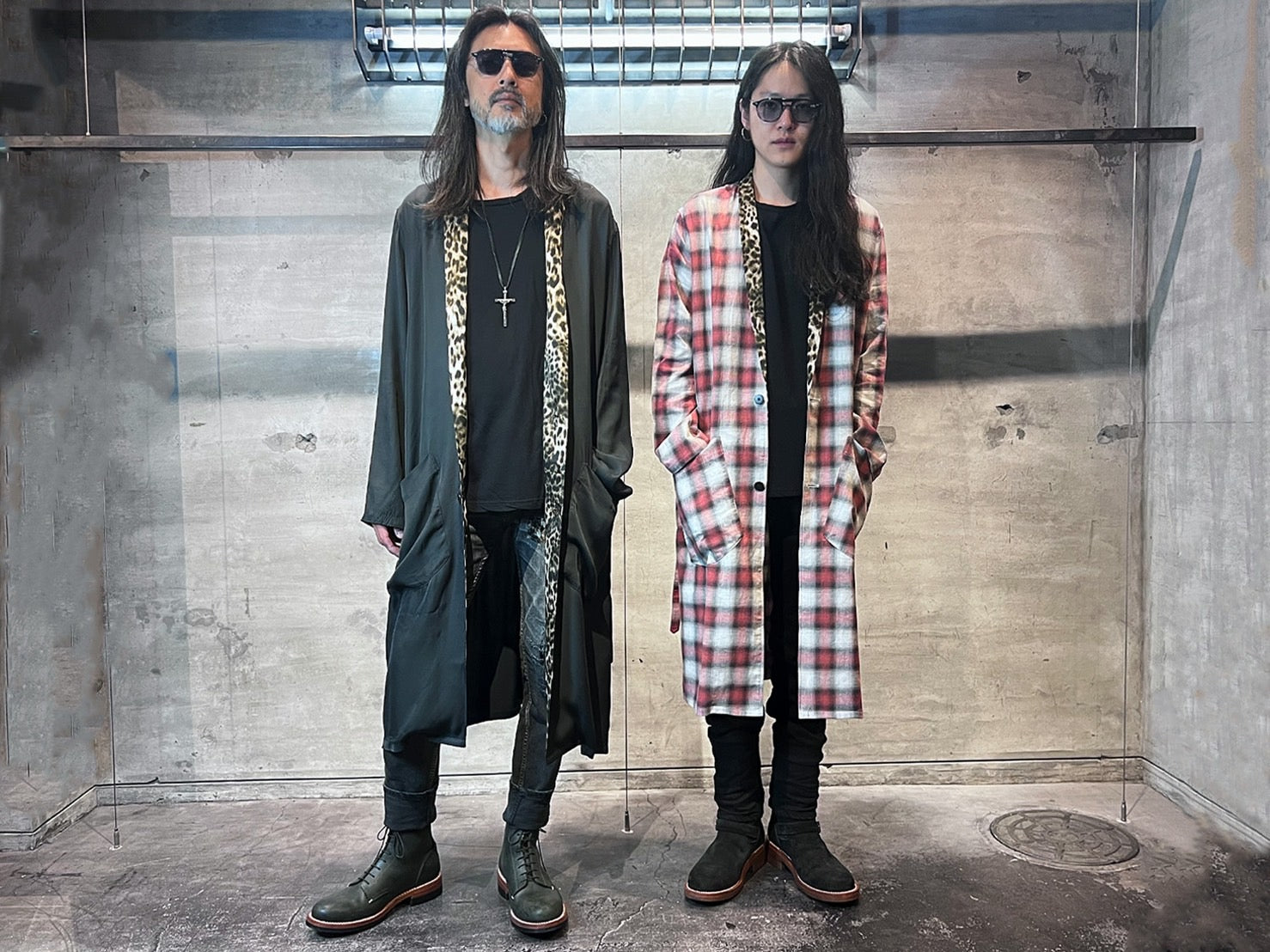 STRUM"
2023 SPRING / SUMMER
"CHOOSE LIFE"
We are pleased to announce the arrival of our new products.
All woven fabrics for 2023 S/S are now in stock.
We have a gorgeous lineup of 6 kinds of fabrics in total.
You can purchase them atFLAGSHIP SHOP,directly-managed online stores, anddealers nationwide from April 27 (Thu.) at 12:00 p.m.
STC155 series
A unique look with floral prints applied in bleached condition and dyed after sewing.
The medium-thick, sweetly woven cotton-linen fabric is product-dyed to give it the feel and fullness of a natural fiber.
This series is available in two colors: BLACK and NAVY are each bleached with a floral print, and after sewing, they are dyed GRAY and RED to create the two extremes of this series.
STC155-01
Open collar shirt with STRUM details.
Buffalo buttons are used for the buttons. The shoulders have a standard turnover, and the back is darted to extend from the sleeve sewing.
STC155-02
With an adjuster belt, this long cardigan corresponds to an adult style of dressing.
This release is resized to a size that has a moderate amount of room but does not destroy the silhouette. The sizing and length have been reviewed and brushed up to a pattern that maintains the silhouette while being relaxed.
STC156 Series
A rayon twill with a soft and smooth feel.
Rayon twill with a distinctive twill grain, moderate bounce and elegant fall, and leopard print satin woven with fine count yarn and smooth to the touch are combined in this fabric.
STC156-02
STRUM's standard western shirt.
STRUM's western shirts have been released over the years while continuing to evolve. This season's release is a resizing of the shirt to a size that has a moderate amount of room but does not destroy the silhouette.
STC156-03
Shawl collar with leopard fabric accents on the reverse side. The width of the turnover is designed to be wider so that the leopard pattern will show when the shirt is flipped over.
STC157-01
A combination of ombre check and leopard satin with a dry touch and vintage look.
Made of 20/1 cotton linen yarn, knitted roughly and sweetly, this twill fabric is ideal for spring and summer. Washed to give it a dry touch and a vintage look.
The collar and bodice are made of a combination of leopard print satin woven with fine count yarn for a smooth feel, creating a loose, oversized long gown with a relaxed feel.
STC158-01
Elegant and calm leopard print for adults. Made of leopard print satin woven with fine count yarn for a smooth feel.
These easy shorts are tailored in a sharp silhouette.
FLAGSHIP SHOP FLAGSHIP SHOP Directly-managed online store Nationwide Dealers Dealers nationwide You can purchase our products at the FLAGSHIP SHOP, online store, and nationwide dealers.
Please check it out.
---
STRUM Original Sticker"
present
STRUM Original Sticker" is a present for those who purchase at our direct-managed stores and on the web.
One sticker will be given per item purchased.

STRUM's first sticker.
STRUM Logo & Philosophy" and "I'm strummer" are on a set of two stickers that look like a mold of an amplifier.
The stickers are made of water-resistant and weather-resistant film, and can be used outdoors.

The stickers will be discontinued without prior notice as soon as they are gone.