Full-scale winter has arrived. Achieve a men's outfit centered on your favorite leather outerwear!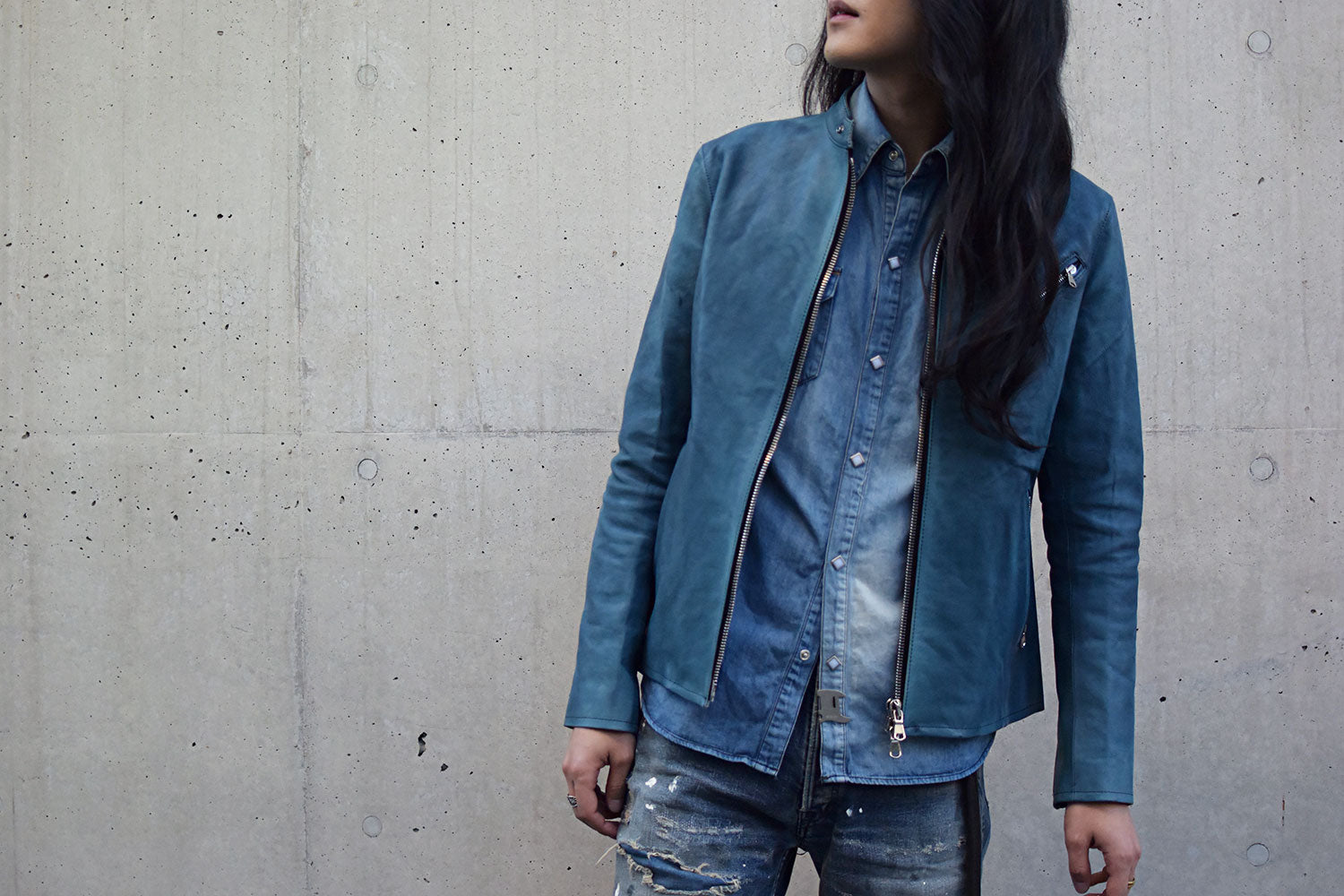 Incorporating bright colors, tone-on-tone for a higher-grade dress
December is finally entering the full-scale winter season.
I want to enjoy various coordination around my favorite outerwear.
Even if the outerwear is the same, it is possible to show all kinds of expressions just by devising the combination method, such as summarizing the winter colors with dark tones, or conversely incorporating bright colors and using the tone-on-tone technique.
In STRUM, we will introduce the coordination using BLUE GREEN "SLATER" of Burning Dyed.
Tips for dressing ①: Coordination using Burning Dyed, a product burning dyeing, to create an atmosphere that makes the most of your individuality
For simple single riders, we want to show off our individuality by choosing a bright blue-green color in winter, when there are many dark tones, with the unique product burning dyeing Burning Dyed processing.
For the military and work tastes that are attracting attention this term, I feel like I dare to wear a nerd atmosphere by combining an inner denim shirt and jeans that have been faded for 100 years. The coloring is just right to create the atmosphere of a good old adult.
Dressing tips (2): Western-style denim shirts create a casual outfit with masculinity
The western shirt, which features a shoulder yoke, a chest pocket with flaps, and snap buttons that are easy to put on and take off, is a new standard item of STRUM that gives off a protagonist presence among denim shirts.
The pale indigo blue western shirt has an ounce of 5.3OZ, which makes it easy to incorporate into all-season coordination, and the combination with processed jeans emphasizes the casual and masculinity of American casual in the same genre.
Dressing tips ③: Utilizing the blue tone-on-tone technique will renew the impression of winter outfits!
I want to incorporate the feeling of missing blue items in winter outfits, which tend to be biased towards wearing dark tones. By increasing the area of blue in the item, the heavy atmosphere of the outerwear in winter is eased, and it becomes easier to finish in a stylish and light dress.
The design contrast between simple single riders and jeans that have been spit out for many years and have a feeling of being dirty and repaired has been upgraded.
Tighten the color that tends to be bonny with the black boots at the end.
In particular, incorporating the tone-on-tone technique will give your winter outfit a fresh look, so if you haven't done so already, please try it.
Enjoy Fashion!
model
178cm / 55kg