2022-23 A/W COLLECTION-Replicant- with Down Vest COOPER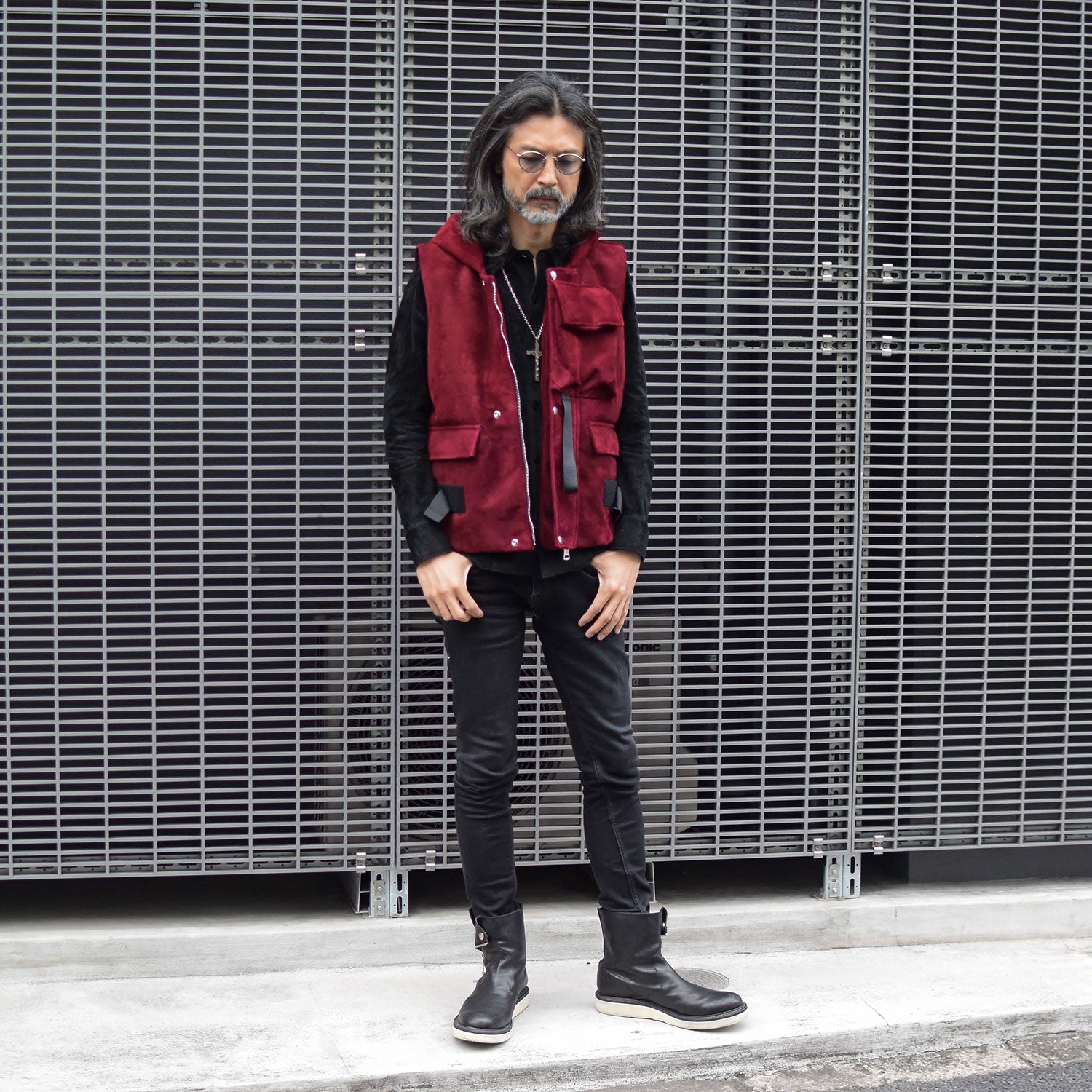 Suede from the recently announced collection HorsehideHooded Down Vest: PICK UP COOPER!
From the 2022-23 A/W collection, the new down vest " COOPER " is presented in suede horse leather, one of the main leathers.
Here are some tips on how to wear the down vest.
Tips on how to wear it ①: Raise the stylishness of your coordinate from the bottom up with a highly colorful suede down vest.
One of the most attractive features of suede is its colorability.
The bright burgundy color is useful as an accent to your coordinate.
In addition, choosing a suede leather down vest, a staple item for the fall and winter season, will further raise the level of fashion.
The unique texture and color of suede, as well as the way its fur changes over time as it gets used more and more, will give it a unique styling that will brush up your look.
Dressing Tip #2: Wear it with a suede shirt. Add a suede shirt to create a sense of depth.
This is a cool coordination with an impression of coolness, with everything except for the down jacket being black, down to the accessories.
The black and color combination tends to be monotonous, but by using suede as the inner leather shirt, a sense of rhythm is created by shading the black, and the depth of color is achieved by skillfully utilizing the depth of color created by the differences in materials such as suede, denim, and the horse leather of the boots.
Leave the loose feeling to the white soles of the boots.
Dressing tip (3) A hooded down vest goes well with a casual jeans style
A hooded parka-type down vest goes well with jeans for a royal casual look.
The suede surface, but the scratches, bloodstains, and uneven dyeing peculiar to horsehide give it a masculine look, while the delicate, carefully paper-coated material gives it a delicate quality that can be used for both.
It is easy to match with jackets, blousons, parkas, etc., and can be worn as outerwear on top of riders.
This is the perfect item to make winter styling, which tends to wear heavy clothes, look light and airy.
The final deadline for pre-orders for the 2022-23A/W COLLECTION-Replicant will be 24:00 on 2022.5.8(SUN).
Enjoy Fashion!
     STRUM STAFF Ryoko
Model: 178cm/55kg
STL066-03 ( size M)
STL061-01 (Wearing size M)
STJ002-TS01( Wearing size 30")