COORDINATE 2021.1.16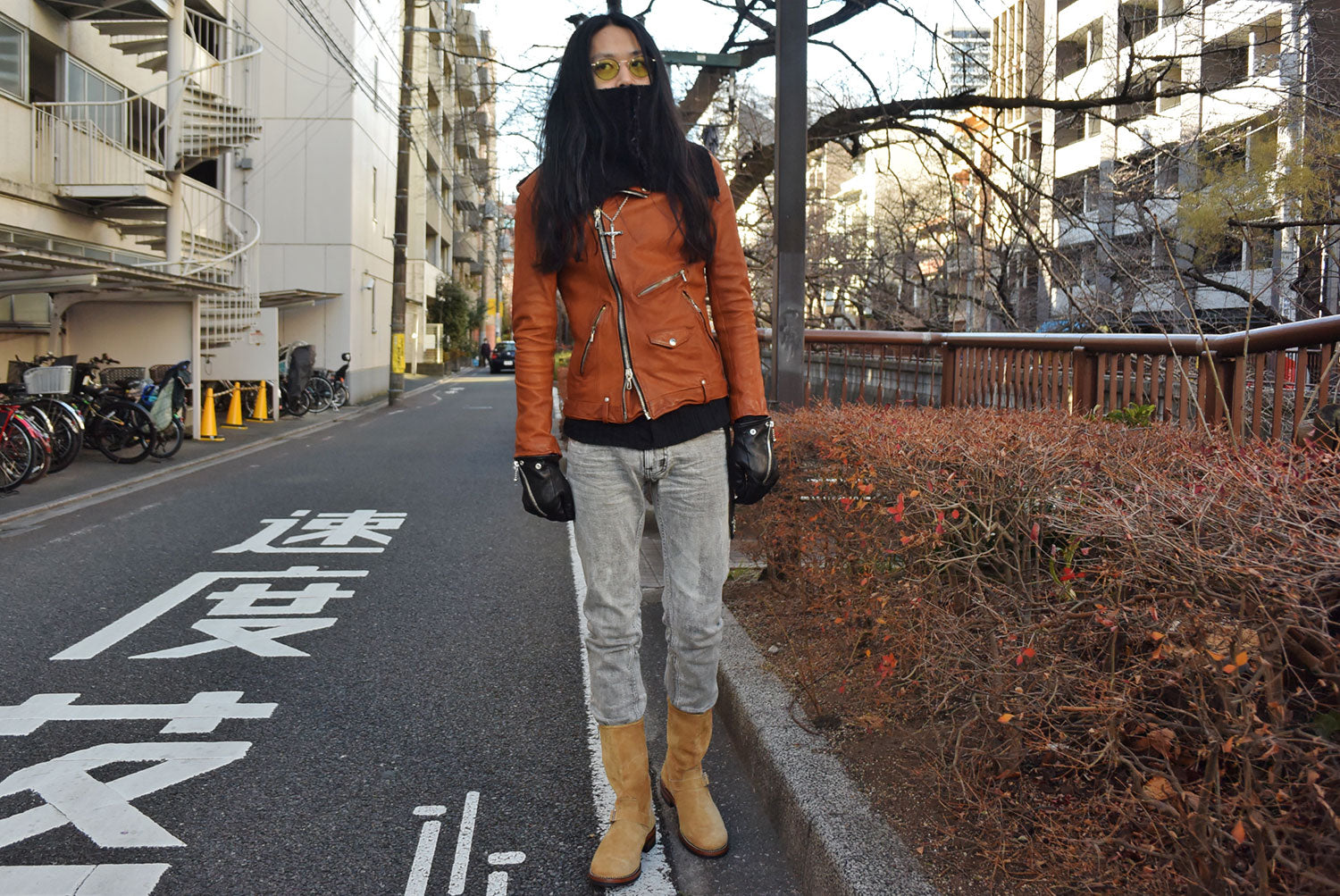 Winter coordination using leather jacket + winter accessories.
"Double Riders" with abundant original charm that other outerwear does not have
It is no exaggeration to say that a man wants to have one outfit.
STRUM, which develops the rider's jacket as a standard, will introduce winter coordination.
Coordination Tech ①: Riders jackets other than black leather give a fresh impression of men's outfits.
Because it is a rider's jacket with a strong image of black leather, the impression of coordination will be fresh by choosing other colors and textures.
Of course, it is a high hurdle for beginners to suddenly enter from riders other than black leather, but if you already have black leather riders as a presser, you can use other colors that can refresh the impression of coordination without difficulty for everyday use. How about adding textured riders to your wardrobe?
Especially in the fall and winter, there are many dark tone items, but the bright brown color improves the freshness of the outfit.
Full tannin double riders that strongly express the shade of color by mixing two colors of dyes without matching the degree of dyeing.
By thoroughly adding oil from the tanning stage and then adding your own oil when dyeing the product, you can enjoy the elasticity and supple feel and the more you wear it, the more familiar it becomes to your body and the taste and texture.
The brown color expresses deep shades by dyeing the product with two dyes without intentionally matching the degree of dyeing.
Coordination tech (2): Strum classic dressing unique to double riders with a raised collar and a front zip that creates a feeling of pulling out
This outfit has a twist on the front zip of the Double Riders, which is a classic STRUM dress.
The collar is raised and the double zip on the front creates a sense of looseness on the chest and waist, giving a positive conversion to the impression of decorative details for a chic styling. The double riders gimmick, which seemed to be rude, shows a different expression that is functionally convincing.
Coordination tech ③: Match the neck warmer and gloves, and inject the essence of the season with winter accessories in the double rider scoring
Double riders with a distinctive light brown color will look a little cold when paired with white denim pants, so inject the essence of the season with a neck warmer and gloves.
To reduce the hard feeling that is often found in leather, and to create a warm winter atmosphere with sharp edges. The voluminous balance around the neck on the decorative gimmick of Double Riders is also nice.
Enjoy Fashion!
model
178cm / 55kg