COORDINATE 2021.3.8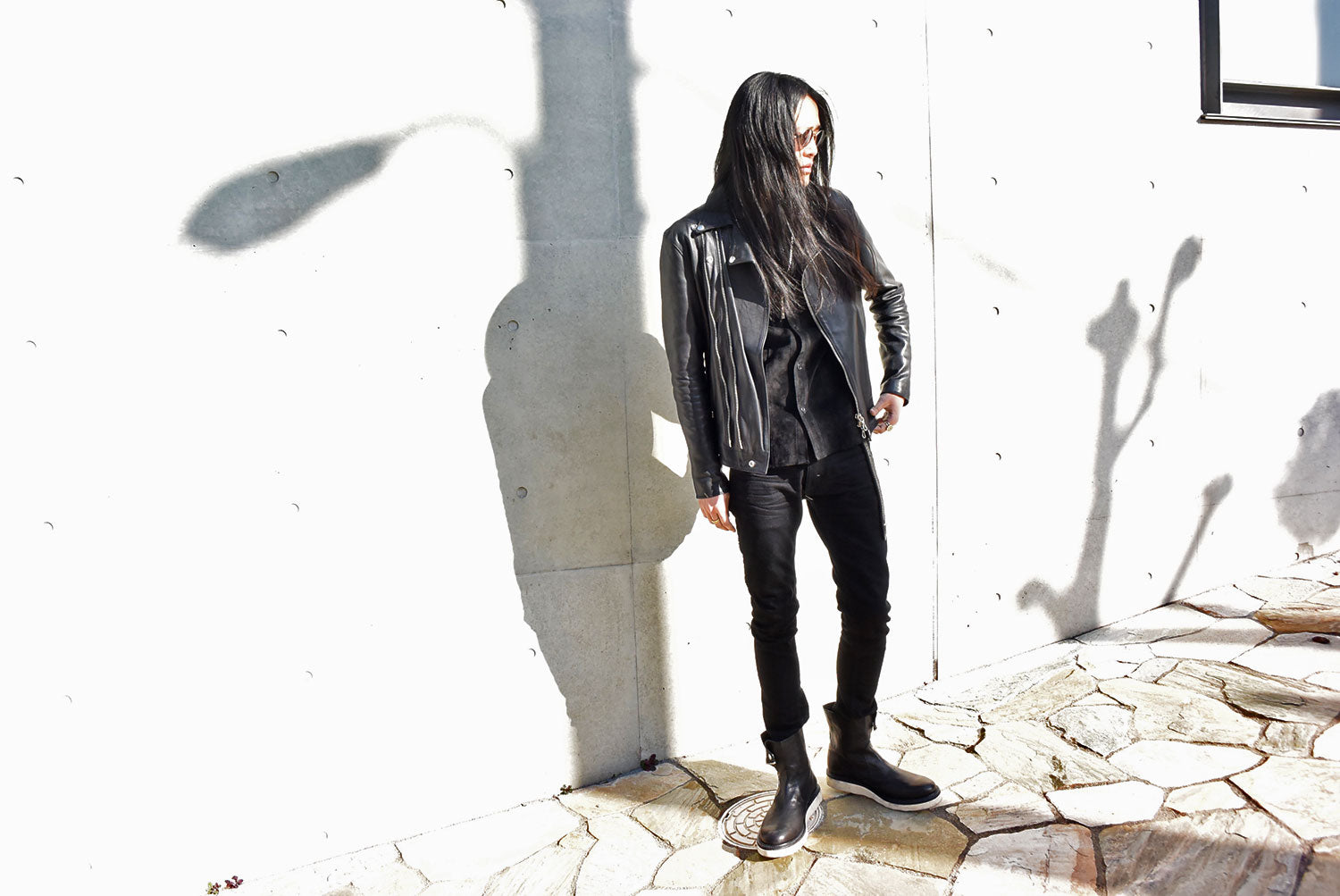 "Spring" coordination made by all black.
Men's fashion classic dressing technique "One Tone" that puts the top and bottom together with items of the same tone
Tone is a word that has the meaning of color tone, but in the fashion industry, it often refers to coordination that combines the same color tones.
This time, I will introduce the coordination made in all black.
Spring Coordination Tech ①: Incorporate a suede black shirt into a black one-tone outfit to create a rhythm of outfits in shades.
The one-tone coordination in black is a fashionable conventional technique to avoid monotonousness by using different colors and patterns.
In order to make the contrast of the texture and the accent by the details work, I want to emphasize the difference in shade with the suede texture even if it is the same black with the introduction of the suede leather shirt.
The double ZIP usage of the double riders emphasizes the individuality and sublimates it into a more original style!
Double riders standard model "RAVEN" representing STRUM
By chrome-tanning the raw cowhide leather of the terrestrial calf in Japan and finishing it with oil, it is more elastic and has a soft, moist and matte luster.

It is no exaggeration to say that the longest design of STRUM's rider's jackets and the brand's masterpiece.
Smooth and elegant long-sleeved shirt "SCARS" that does not seem to be suede
Uses chrome-tanned leather made from raw cowhide leather of terrestrial calf in Japan.
Leather that combines the toughness, supple softness, and lightness of chrome.
The front and back have four cut-offs to accentuate the design and create a standard, slender silhouette.
Spring coordination tech ②: Small items are also upgraded in black one tone to upgrade the royal road coordination
A royal road style with a unified taste that combines a leather jacket with a shirt, slender denim, and boots.
By arranging items in one tone of black, even the belt that can be glimpsed from the hem of sunglasses and leather shirts without incorporating other colors, it is upgraded to a sophisticated style.
The cloth with a strong presence at the neck, the cloth on the belt, and the silver zip of the leather jacket are also useful.
Spring Coordination Tech ③: Black one-tone coordination gives you a feeling of being comfortable without casual lye
Coordination mainly in black can produce a hard and mysterious impression, but on the other hand, it also creates an atmosphere with too sharp edges, so it is a fashionable technique to produce familiarity with a moderate amount of lye at your feet.
The white of the Vibram sole of the rider's boots, which is located between the boots and the sneakers, adds a sense of omission and sportiness to the over-determined outfit.
Enjoy Fashion!
model
182cm / 65kg