COORDINATE 2021.3.21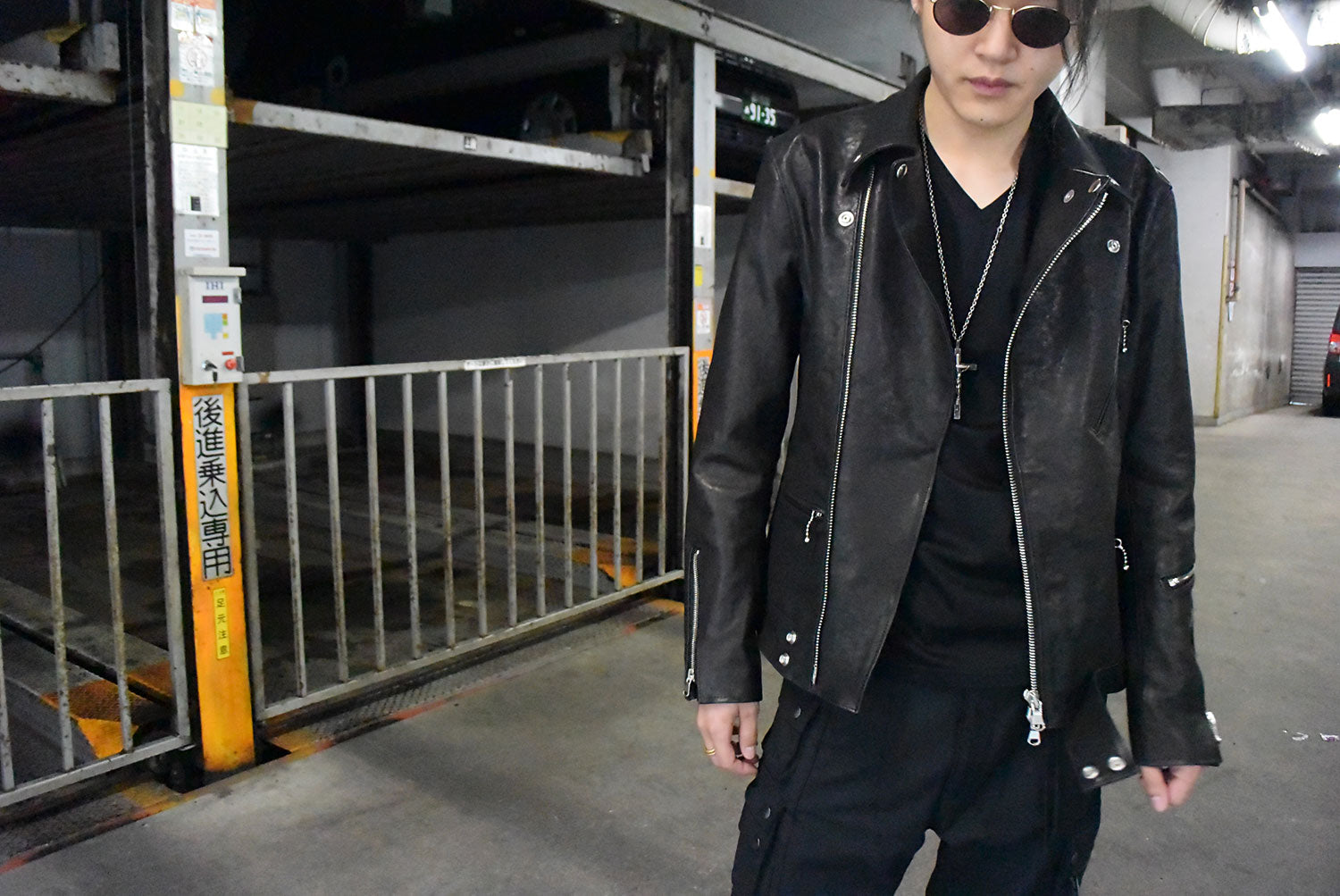 "Spring" coordination made with horse riders jacket.
If you want to create a light feeling by shifting from winter outfits, where long coats are the mainstay, to spring outfits, we will introduce short-length outerwear.

In particular, "Leather Riders" can be worn for 3 seasons and is perfect for enjoying coordination from various perspectives.
Spring coordination tech ①: Riders jacket is a representative short length outerwear that creates a hard and wild spring outfit.
The leather riders jacket, which can be used for three seasons in spring, autumn and winter, is a representative short-length outerwear that gives you a hard and wild outfit.
In particular, the double riders have an overwhelming presence and a profound feeling, and give the styling a bold impression that is difficult to obtain with other short length outerwear.
This time, the double riders are coordinated in black with slender and elegant biker pants and a glossy V-neck cut-and-sew.
The early spring outfit, which remains cold in the morning and evening, has a beautiful and stylish finish that is suitable for adult wear while giving an edge to the riders.
STRUM's new face shrink horsehide "SPEEDER"
Taking advantage of the characteristics of horse leather with many scratches, using only horse leather with many scratches, full tannin tanning in the pit tank for about 3 months, shrinking to half the normal size and shrinking, a look that has an impact with scratches and graininess Finished in.
Although it is full tannin, it is not dyed, so there is no variation in size, and it is a series that will be the new face of STRUM.
Spring Coordination Tech (2): If you have an item with outstanding versatility, "Spring" is easy
The protagonist of this time is the shrink horse leather riders who have a feeling of grain and scratches.
The texture that conveys the atmosphere even in the image has an unprecedented impact.
You may feel the weight of the STRUM is reduced by half compared to the standard terrestrial oil calf, but there is no doubt that it has a different presence from crampedness.
Don't forget to aim for a vertical effect by simply using a glossy V-neck on the inner of the leather jacket, which is easy to mix and match, and raising your eyes with a cross necklace.
Spring coordination tech ③: Coordinating short leather outerwear and beautiful biker pants for styling in early spring when the cold remains
The leather double riders and boots ensure cold weather, while the inner and biker pants shafts are lightly finished for a perfect styling for the season when the temperature difference is significant.
The bottom is not casually finished with denim, but the tapered silhouette and cotton, but with an elegant texture and appearance, enhances the sense of adulthood.
It doesn't look like spring at first glance, but this styling is perfect for early spring when it's still cold. Please refer to this when the season changes from winter to spring and you are worried about the placement of your outfit.
Enjoy Fashion!
model
182cm / 65kg