COORDINATE 2021.4.4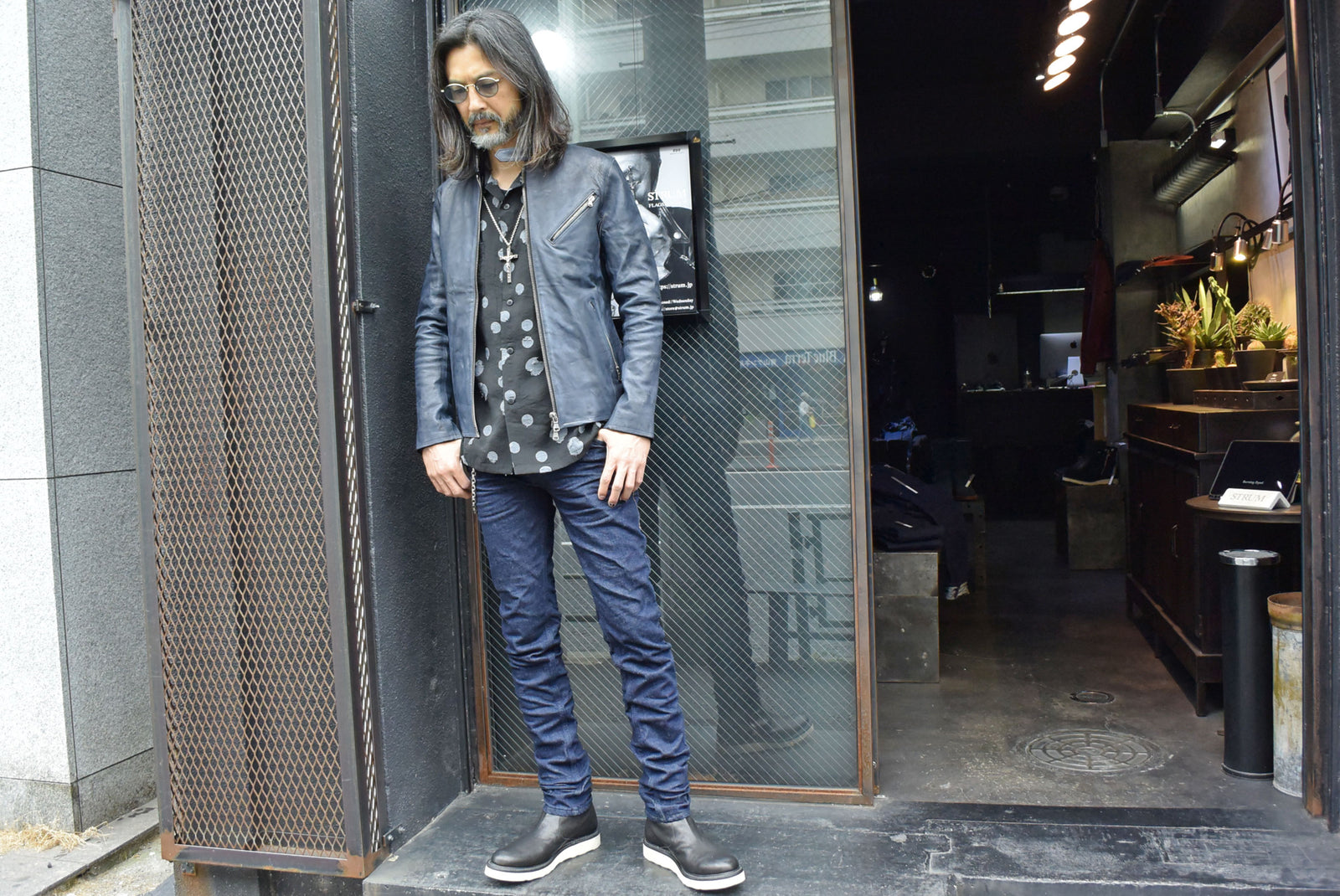 "Spring" coordination made with GUNBLUE leather jacket.
"Leather jacket" that raises the charm of a man with a tough texture and wild appearance
The image of winter outerwear is strong, and many people wonder how to dress in spring ...
This time, we will introduce single riders from STRUM's masterpiece BURNING DYED series.
Spring coordination tech ①: GUNBLUE leather jacket with tone-on-tone modern finish
GUNBLUE's leather jacket is combined with gray and blue to match the tone, creating a strange and modern look.
For the minimalist single riders, we chose a dodd and decorative shirt for the inner to create a playful feeling.
Speaking of STRUM, BURNING DYED-a leather jacket that has experienced burning
Classic SLATER
After the alcohol is ignited, the fire is transferred to the dye, and the dye discolors and burns, creating a unique unevenness. This is a unique technique that extinguishes the fire and fixes the dye before it is transferred to the leather.
Classic single sliders: GUN BLUE is fresh like spring in SLATER.
Spring coordination tech (2): IN a leather jacket with a shirt that balances texture and omission
BURNING DYED's leather jacket, which has a firm texture and uneven color, is paired with an effortless Dodd shirt with a slightly loose silhouette made of a material with a feeling of falling, creating a coordination that coexists with texture and omission.

It seems that a feeling of tingling will be created, but by limiting the number of colors to two, the sophistication will be improved and the cohesiveness will be improved.
The front open of the leather jacket has a nice finish with a casual treatment.
Spring Coordination Tech ③: One-wash tight straight denim pants that make your outfit look like an adult
If you want to wear a leather jacket to an adult in an elegant atmosphere, it is also an effective way to match the one-wash indigo color in early spring.
By adding a clean impression, the man's habit of the leather jacket is wiped out, and the elegant styling is completed.
And don't forget to choose the shiny boots of the shrink hose for the tight straight with a smart silhouette.
Enjoy Fashion!
model
182cm / 65kg