COORDINATE 2021.5.28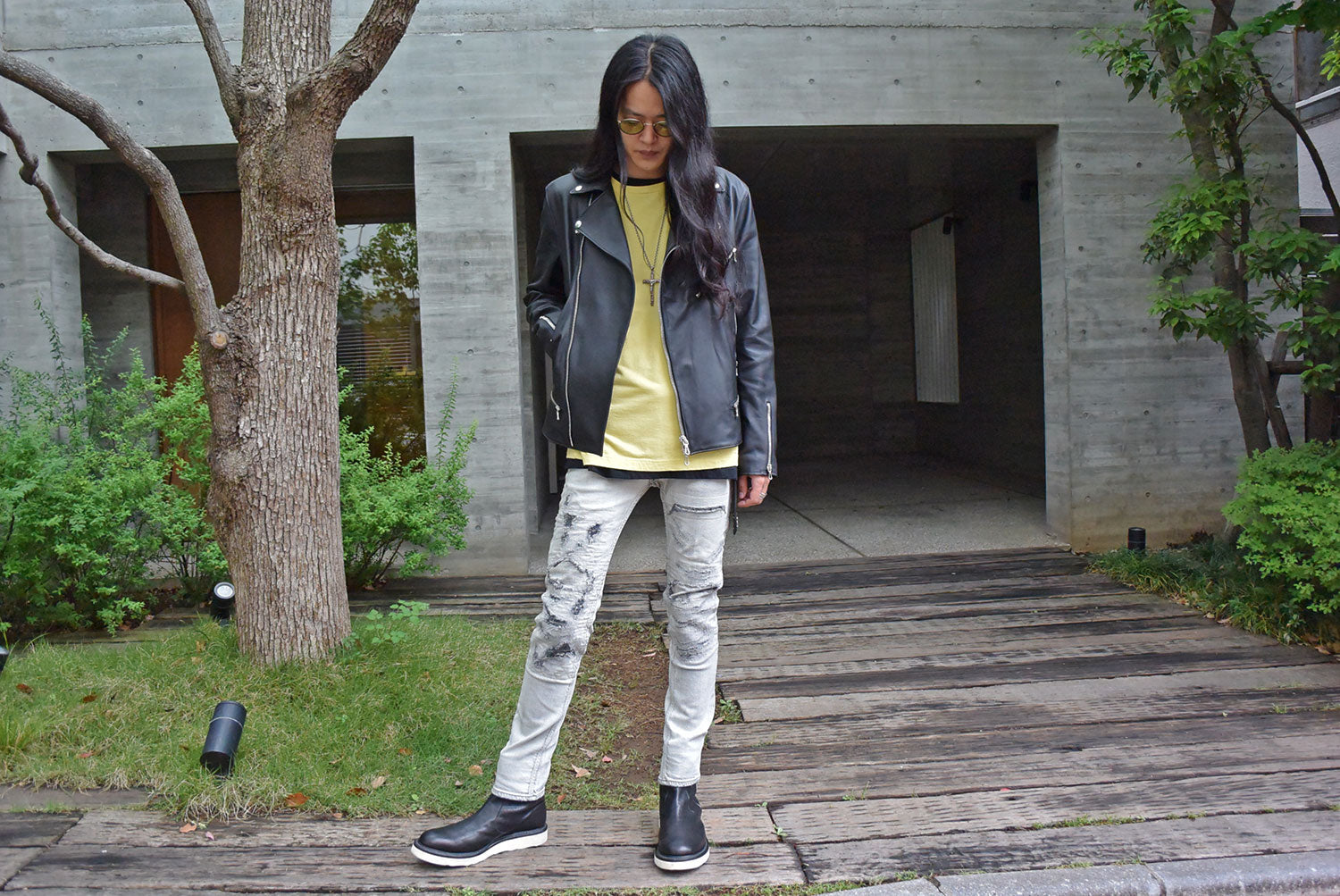 This time of trouble: "Light outer" and inner wear are perfect for the rainy season.
It is hot on sunny days and chilly on cloudy days and when it rains. Of course, it may rain every day, and the humidity is high, so it is easy to worry about what kind of clothes to wear. Even during the day to spend in one piece short-sleeved tops, also it is a light outer necessary when the temperature drops at night ....
Here are some tips on how to dress when there is such a difference in temperature.
Tips for dressing ①: Light outerwear is essential when it rains or when the temperature drops at night, the difference is the size!
A rider's jacket that is active not only in the fall and winter but also in the early spring.
It's good to choose just the size and finish it with a rugged mood, but sometimes increase the size. It is also interesting to enjoy the mix coordination that combines casual items.
If there is room in the size of the leather jacket, you can set a slightly loose and long inner to make it casual and sporty.
* Riders usually wear M size, but this time they dare to wear L size.
Raccagni New double riders jacket DIVINE with zipper elements prominently placed
In STRUM, the classic Japan calf cowhide leather is chrome-tanned in Japan, and a gusset is put on the side to increase the range of motion, and a cut-back and darts are put on the back to accentuate the Raccagni fastener element. New double riders arranged to stand out.
A model that is strong, supple, soft, durable, and has a design that is characteristic of chrome tanning.
Tips for dressing (2): Layered big T- shirt with inner layer that will make you feel good even when tacking out.
If you don't want to bother with this and that, we recommend choosing a big T-shirt on the assumption that you will tuck out in advance. The length is just the length from the waist to the inseam, and if the width of the body is about one fist on the left and right, it is easy to get caught without tuck-in. If you have an appropriate drop shoulder, you can easily create a sophisticated atmosphere.
This time, considering the temperature difference, it is layered with Ron T, so check it out as it can be used in the main instead of the inner!
A balance that allows you to see Ron T from the hem is essential.
Tips for dressing ③: Make effective use of small items to control simple outfits!
A plain T- shirt and simple styling like denim pants can be worn by a sophisticated adult, but on the other hand, it may feel too simple and unsatisfactory.
Incorporating small items that are not affected by temperature is one of the indispensable techniques for coordination from now to summer.
Even if you are a simple person, why not take this opportunity?
Add an appropriate accent by incorporating sunglasses and a belt to create a stylish image. The white sole at the feet adds a light impression that the black boots do not become heavy.
Enjoy Fashion!
model
178 cm / 55 kg