COORDINATE 2021.7.29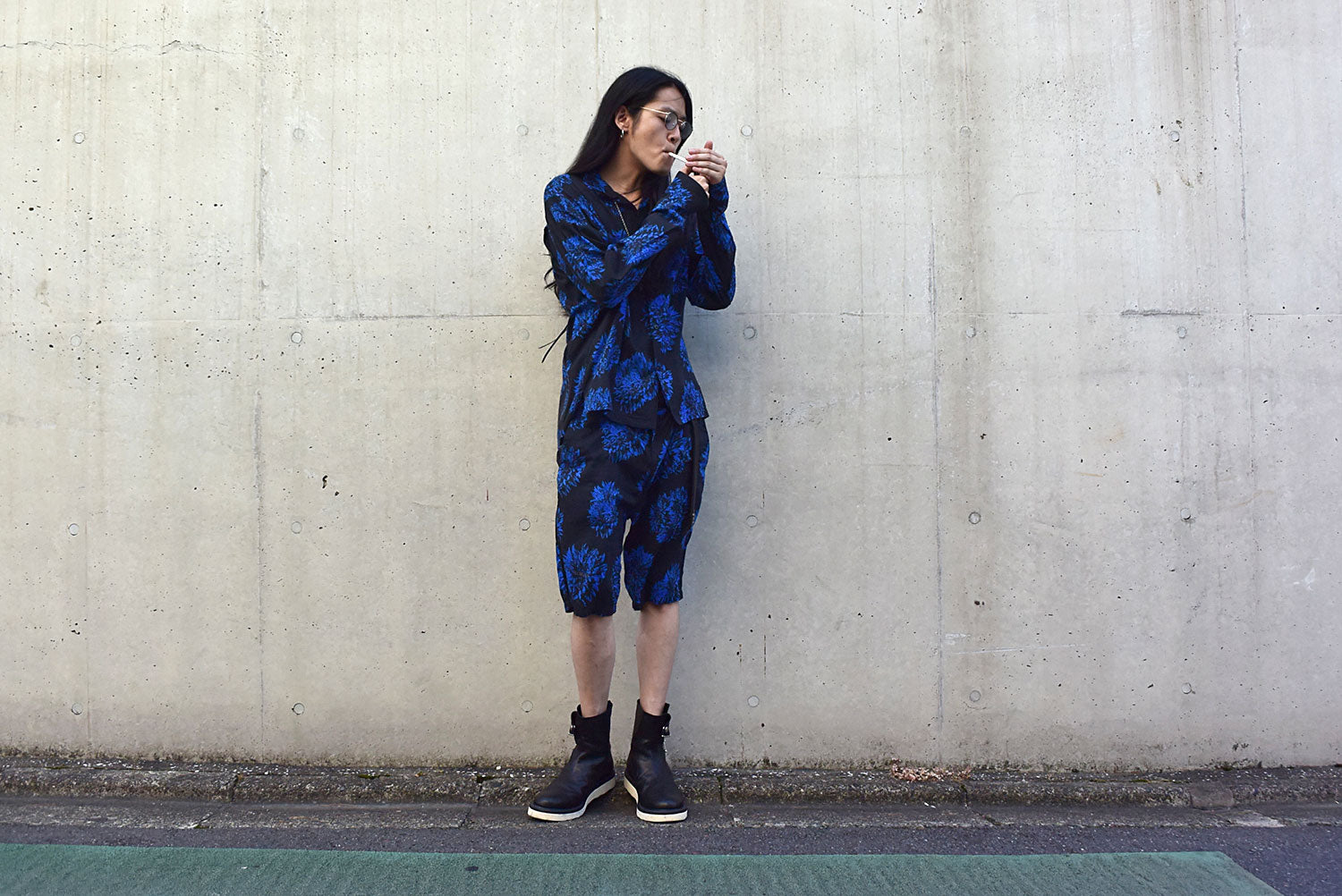 "Setup" with shorts that are light yet easy to get a sense of unity
Although it is called "setup", there are various means of coordination.
When it comes to practicing the material, length, and color, there should be many points to worry about. In such a case, it is possible to realize a light and unified coordination by creating a feeling of looseness at the feet of the "setup" of the shorts, which gives an impression of a sense of the season.
This time, I will introduce "Setup" and Vibram sole.
Tips for dressing ①: Choose an original print and a particular texture .
This season, we are developing a setup with STRUM's original dahlia pattern.
The natural texture of cotton is combined with the feel of silk and the feeling of rayon falling, and the supple, light and luxurious material has an outstanding feeling of falling and the silhouette is very ◎
Open-collared shirts and shorts that hide the kneecaps while having a resort feel are expected to show their protagonist presence even when used alone.
What is "Vibram sole" used in STRUM boots?
It is a sole manufactured by Vibram of Talia, and is used for the soles of various shoes such as mountain climbing shoes, work boots, and sneakers.
The great thing about Vibram is that it is a manufacturer specializing in soles. Normally, shoe soles are manufactured by the manufacturer in-house, but most Vibram soles are outsourced.
Why is Vibram sole valued?
・ Abundant materials and patterns, excellent durability
Originally developed as a sole for mountaineering, it is non-slip and has excellent durability. Besides that, if it is for work, it is designed according to the scene, such as being hard to tear, hard to burn, and maintaining flexibility even at a low temperature of -40 ° C.
・ Not only functionality but also design is excellent
There are many patterns on the vibram sole. What's more, it's not just fashionable, it's designed so that it doesn't compromise functionality.
・ Thorough quality control
The finished sole will be measured for more than 10 items, and only soles that have passed the field test in the actual environment will be sold.
You can see the meaning of many brands adopting Vibram soles.
Dressing tips (2): Black oversized tops for a relaxed men's outfit
Why don't you try the black-based dahlia pattern this season?
The contrast between black and blue creates a chic mood while keeping the botanical pattern, giving an impression that is completely different from a plain shirt.

We recommend a light and unified look that combines other items with the same pattern and less color.
Tips for dressing ③: Noble black X blue to put your whole body together and elegantly express your summer shorts outfit
Natural materials with a coolness together knee-length, shorts-length kneecap is not visible to the riders boots, color is also summarized in the black X blue, elegantly coordinated shorts style of summer.
The size of the shirt with moderate slack creates an adult look, and the feet of the boots equipped with the white vibram sole add lightness and youthfulness.
It is a good example of beautiful dressing that can be developed not only in town but also in resorts and outdoors.
Enjoy Fashion!
model
178cm / 55kg