STYLING 2020.11.12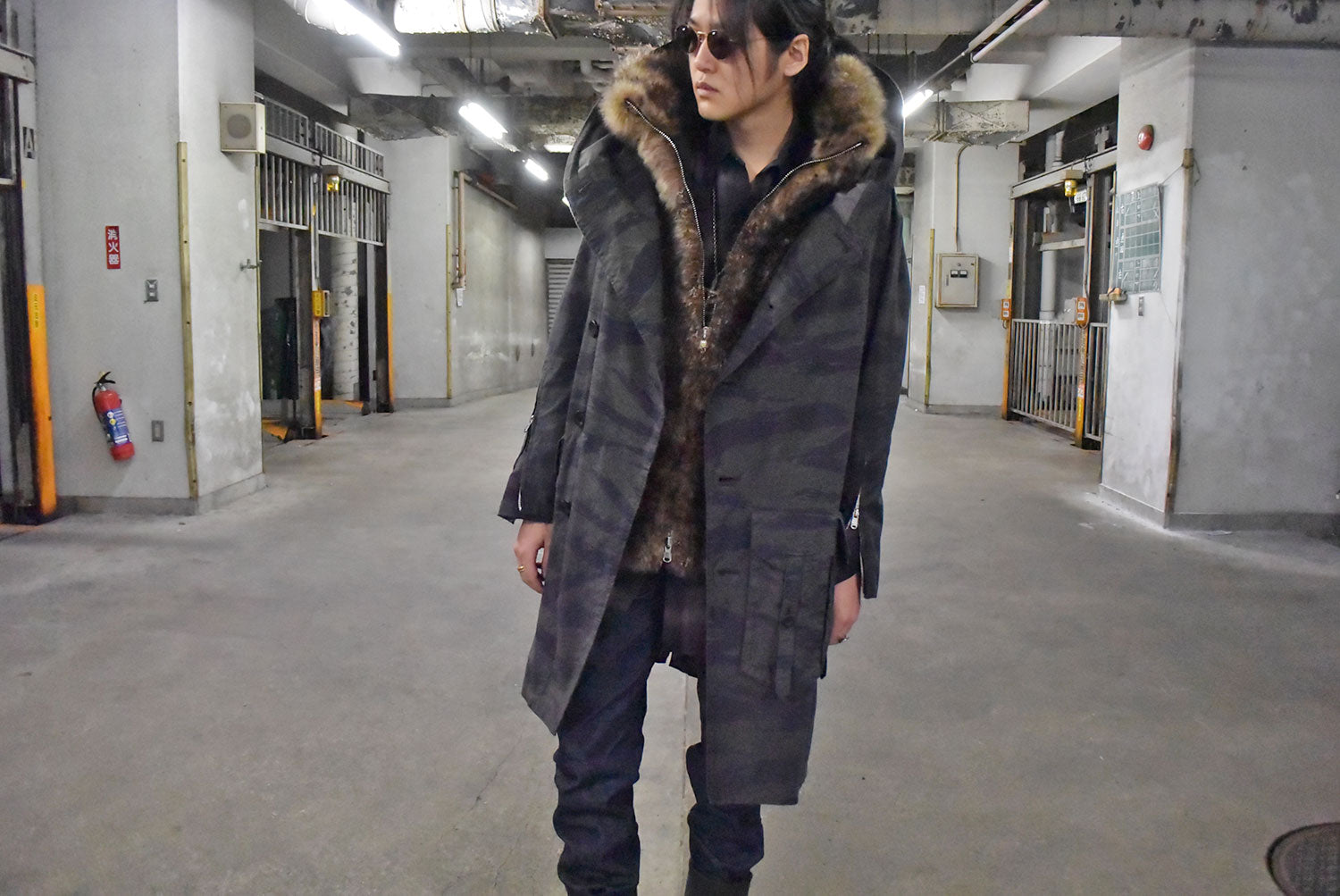 Styling with fur vest and camouflage wrap coat.
There are endless variations of autumn / winter outfits with many items to combine.
This time, we will introduce the styling of "Far Vest & Wrap Coat" .
It is not an exaggeration to say that the style of autumn / winter coordination is almost determined by what kind of outerwear you wear.
There are many people who choose a simple design for such autumn / winter outerwear so that it is easy to assemble.
Sometimes you want spices and edges.
Therefore, we used the Mongolian cashmere hoody vest as a liner for the wrap coat, which also protects against the cold.
The surface is coarse hair, and fine soft hair is densely grown under it, so you can wear it with an outstanding presence just by looking at the hoody part from the collar on the wrap coat.
Not only the appearance but also the warmth is guaranteed because the heat retention is high and the hair density is high.
While maintaining the perfection of coordination, the military feel is also an accent when combined with the camouflage pattern.
Commercialize the finest fur with advanced technology.
It is said that it is extremely rare to hit the market because it requires extremely advanced technology to commercialize cashmere fur.
With pockets on both sides. The fastener is made by Raccagni of Italy.
Even if you take off your wrap coat, the long check shirt plays a good role in not feeling omission.

If the tops are unique, subtracting them with slender denim pants will give you a smart and cohesive styling.
On the other hand, it is essential to insert the hem of the pants to make the feet stand out so as not to lose the volume of the tops.
Enjoy Fashion!
model
178cm / 55kg