Three coordinating coveralls!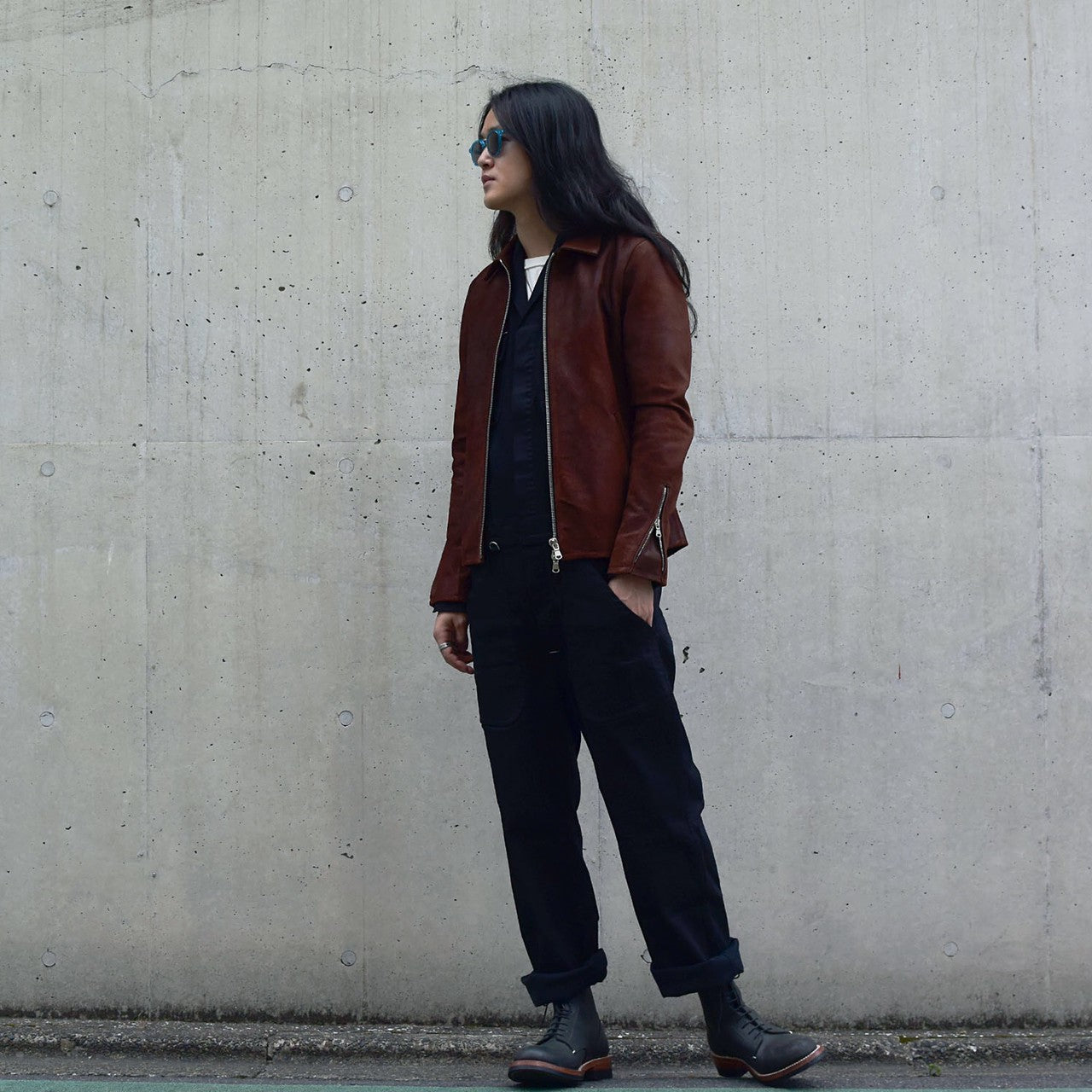 Coveralls, an item synonymous with tough work style
With their roots in mechanics' work clothes, coveralls, also known as "ties" or "all-in-ones," are synonymous with tough work style.
Like cargo pants, they are popular as an item with a rugged, masculine atmosphere.
In this issue, we introduce three coordinated looks using the " OVER DRIVE" engineering coveralls!
Coordination 1: Loose-fitting coveralls give men's coordination a mischievous look
This men's coordinate combines black coveralls with large pockets, cat-eye buttons, and white cankles, with a white T-shirt and logger boots.
The overall silhouette is loose-fitting, creating a relaxed atmosphere that is neither too formal nor too casual, while enhancing a sense of mischievousness.
The color contrast gives this coordinate an acerbic look.
The coveralls are mostly black, and the white inner T-shirt lightens the overall weight of the outfit.
The turquoise bandanas attached to the belt loops increase the mischievousness of this coordinate.
Coordination 2: Silver accessories give the casual jumpsuit a martial masculine look
The martial black denim coveralls are styled with silver accessories such as necklaces and wallet chains.
The color of the white-bone-finished cross necklace and the wine tank top worn as innerwear add a clean look to the coveralls, which have a strong work taste.
The mismatch of completely different tastes and approaches is very current.
The hem of the coveralls should be lightly inserted into the boots to enhance the work look.
If the coveralls are loose-fitting, lightly tuck in the arms to reduce the sense of being worn.
Coordinate ③: Wear the coveralls in a mode
Take off the top half of the coveralls and wrap them around the waist for a tough style, and match them with cutoffs that have a slightly dropped appearance for a mode look.
For the feet of the all-black monotone coordinate, sandals are chosen for a sense of nookiness.
The result is a styling that immediately creates a sense of the season.
Coveralls have a strong image of toughness, but depending on how they are worn, they have the potential to be used in a mode coordinate as well.
This is a highly recommended item for this time of year, when the template style of T-shirts and denim tends to be the norm.
Enjoy Fashion!
Model: 178cm/55kg
SNS
instagram: https://www.instagram.com/strum_official_store/
Twitter: https: //twitter.com/STRUM_OFFICIAL/
YouTube: https://www.youtube.com/c/STRUMCH
LINE: https://lin.ee/JhEOnlg
500 yen coupon will be given to those who register on LINE!
STRUM FLAGSHIP SHOP
2-3-1 Higashiyama, Meguro-ku, Tokyo 153-0043
STRUM SECTION 1F
03-6303-0696
12:00-20:00 Closed on Wednesday
info@strum.jp
https://strum.jp
STL068-01 (Wear size M)
STL045-02 (Wear size M)
STJ004-OG01 (Wearing size S)
STC113-01 (Wearing size M)
STC134-01 (Wear size M)
STC144-01 (size M)
SSB002-01( Wear size US8)
STB006-01 (Wearing size 27cm)