Three summer boot styles!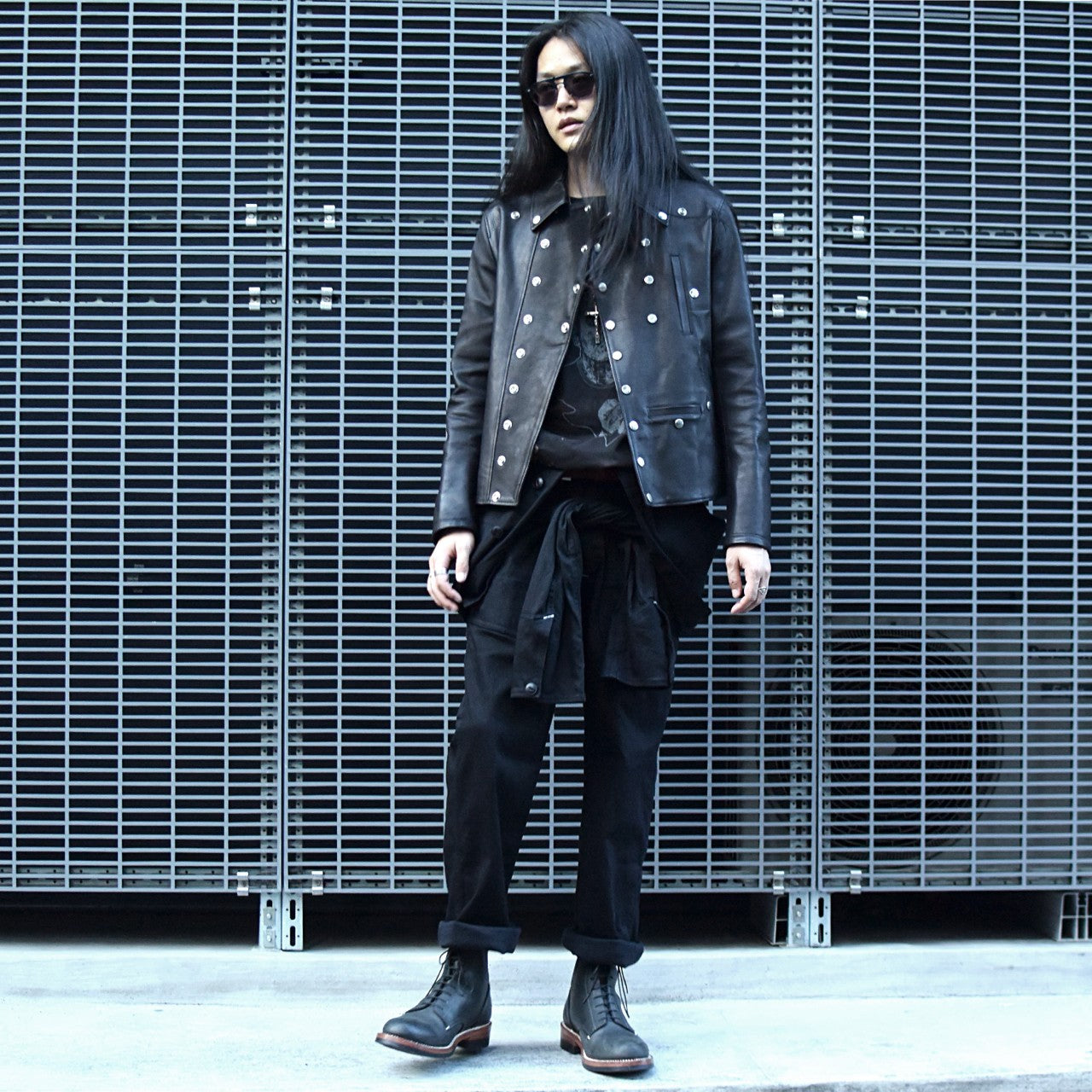 How to incorporate them into the season and 3 men's coordinates for reference
If you want to incorporate summer boot styles into your coordination, you need to keep in mind the points you should pay attention to.
In this issue, we focus on summer boot coordination and introduce some points to keep in mind and some examples of how to wear them!
Coordination 1: Set the logger boots on the black coordinate for an all-black mode outfit
Logger boots are chosen for an all-black outfit.
The use of sharply shaped boots, despite their work taste, creates a mode atmosphere.
While changing the T-shirt to white is also an option to create a lighter look, if you want to create a sense of unity, wearing all black even in summer will create a more sophisticated and urban atmosphere.
For this look, a printed T-shirt was chosen as an innerwear item to add a sense of separateness.
If you are wearing boots with a narrow ankle shape, roll them up for a sleeker silhouette. Rolling up to an ankle-length is well-balanced and weightless, and is especially recommended for summer boot styles.
Coordination 2: Brown boots on the feet, picking up the color of the dahlia-patterned open-collar shirt and belt
This summer coordinate is a resort-style look with a dahlia-patterned open-collared shirt and white denim pants. The blue of the open-collared shirt and the color of the sunglasses are linked, and the black of the shirt and the color of the engineer boots are matched to create a cohesive look. This coordinate would also look good with flip-flops, but as you can see, it also looks great with boots.
If you are going to wear boots in the summer, we recommend suede boots. It is said that suede shoes have good breathability as a characteristic of leather, and are often worn in desert areas.
Coordination 3: Rider boots tighten up the summery coordinate made with shiny long shirts and shorts!
We picked up an outfit that expresses a resort mood with a shiny long shirt and dahlia print shorts. While sandals or lightweight sneakers would complete this light and summery coordinate, we dared to choose Vibram sole boots for the feet to add a sense of weight.
If you want to tighten up your coordinate with a little restraint rather than going all out with a resort look, why not take a look at how to use these boots?
If you want to tighten up your outfit with a slightly restrained look rather than a full-on resort look, or if you want to maintain an urban atmosphere, we recommend using boots like these.
Enjoy Fashion!
Model: 178cm/55kg
SNS
instagram: https://www.instagram.com/strum_official_store/
Twitter: https: //twitter.com/STRUM_OFFICIAL/
YouTube: https: //www.youtube.com/c/STRUMCH
TikTok: https://www.tiktok.com/@strum_official
LINE: https://lin.ee/JhEOnlg
500 yen coupon will be given to those who register on LINE!
STRUM FLAGSHIP SHOP
2-3-1 Higashiyama, Meguro-ku, Tokyo 153-0043
STRUM SECTION 1F
03-6303-0696
12:00-20:00 Closed on Wednesdays
https://strum.jp
STL045-09 ( size M)
STL045-03 (size S)
STJ004-OG01 (wear size S)
STC138-01 (size M)
STJ002-SN02( Wearing size 30 inches)
STC138-03 (Wear size 30")
STB006-01 (Wear size 27cm)
SSB002-01 (Wear size US9)
SSB001-01 (Wear size US9)