Using the "COOPER" down vest, here's a coordinated look that will allow you to wear your leather jacket through the winter!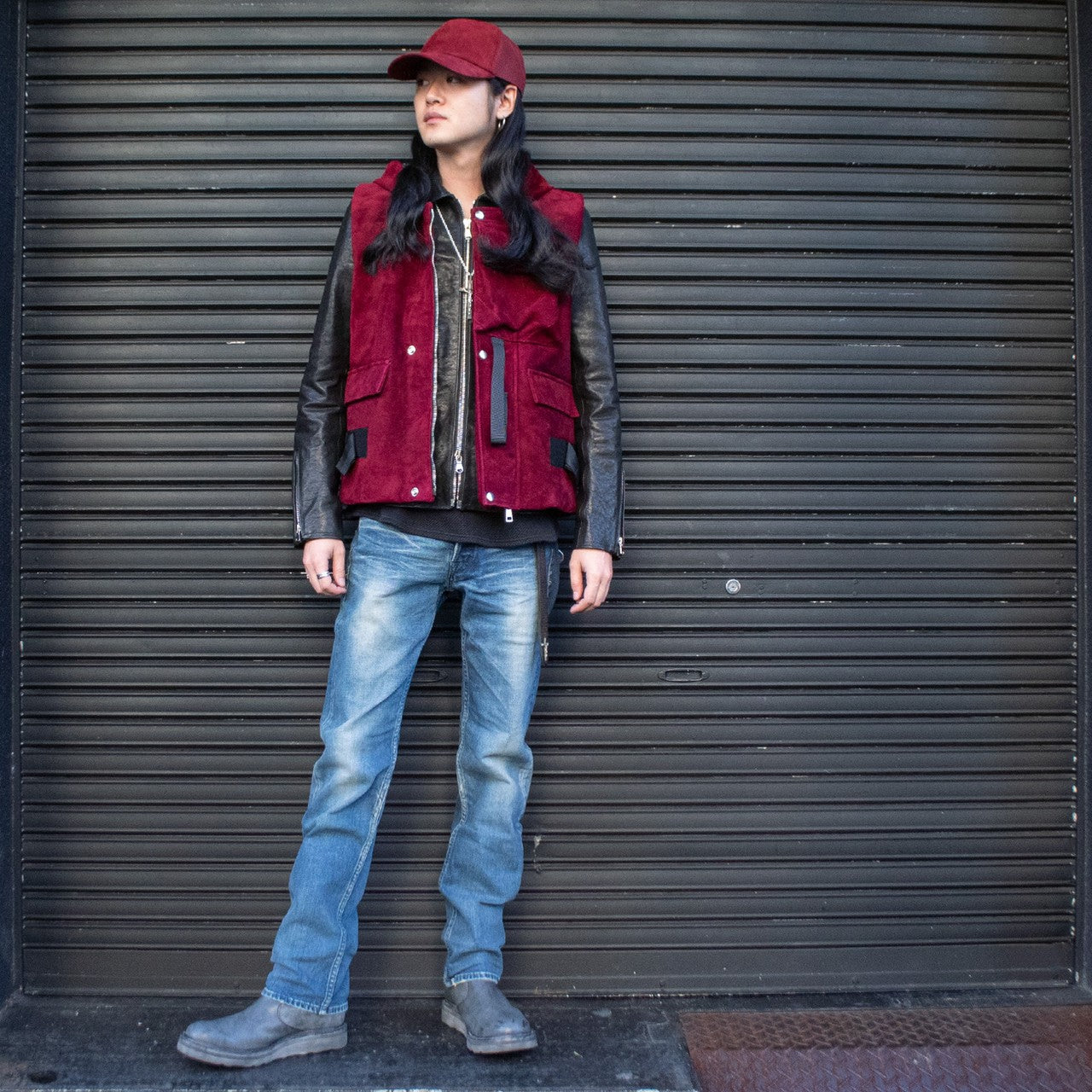 Down vests are reliable during the cold weather season.
It is an attractive item that provides protection from the cold and, because it has no sleeves, allows items worn inside to stand out and allows you to enjoy layered styles.
This time, we will introduce the new Suede horsehide hooded down vest "COOPER and introduce some tips on how to wear it in a coordinated fashion!
How to wear it: Mix and match with sportswear for a lighthearted look
Down vests are items that originated in the outdoors. Therefore, it goes well with outdoor wear, but it may look heavy or drab. To avoid this, it is effective to combine it with sporty items that give a light impression.
Matching it with a hoodie, sweatpants, and sneakers completes a light and carefree coordination. The fact that the down vest is worn open in the front also contributes to the lightness of the look.
The use of Italian-made THIN DOWN (down in sheet form ) makes it thin while maintaining the original warmth of down. It has both a visual aspect that does not destroy the original line of the garment and a functional aspect that does not lose its shape or blow out the down.
Dressing tip 2: Layer up a down vest with a leather jacket to get through the cold winter months!
When using a down vest as outerwear, it is common to match it with casual items. If you want to go for the unexpected, try wearing outerwear on outerwear.
Bywearing a down vest over a leather jacket like this, you can coordinate both warmth and fashion.
As for the inner rider's jacket, a simple collared single rider is chosen because of the impact of the down vest.
Thick pants go well with the voluminous down vest.
The silhouette is well-balanced and the loose fit creates a more stylish coordinate.
Enjoy Fashion!
Model: 178cm/60kg
SNS
instagram: https://www.instagram.com/strum_official_store/
Twitter: https: //twitter.com/STRUM_OFFICIAL/
YouTube: https: //www.youtube.com/c/STRUMCH
TikTok: https://www.tiktok.com/@strum_official
LINE: https://lin.ee/JhEOnlg
500 yen coupon will be given to those who register on LINE!
STRUM FLAGSHIP SHOP
2-3-1 Higashiyama, Meguro-ku, Tokyo 153-0043
STRUM SECTION 1F
03-6303-0696
12:00-20:00 Closed on Wednesdays
https://strum.jp
STL066-03 ( size M)
STL064-02 (size M)
STC123-04 (size M)
STC141-01 (size M )
STC123-05( Size M )
STJ001-RS01( wear size 28")
STB007-01 (Wearing size 27cm)
STB008-01 (Wear size 27cm)