Special men's coordinates for midwinter!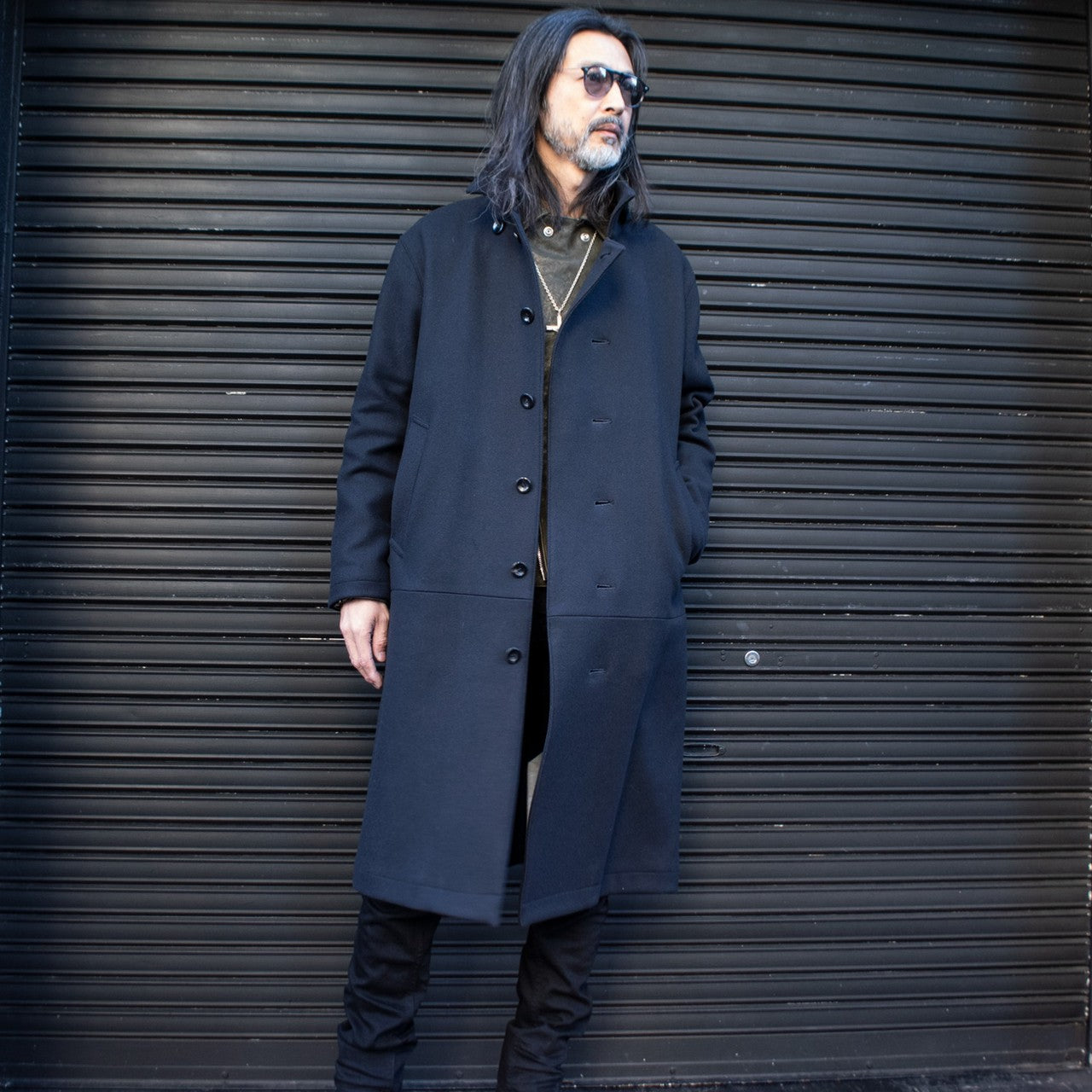 What is the best men's coordinate for midwinter that incorporates trendy colors?
Color" plays an important role in men's fashion by creating a sense of the season and a fresh impression when incorporated into a coordinated look.
In this issue, we pick up three men's midwinter coordinates using trendy "colors"!
Coordination 1 : Navy gives a noble impression to a relaxed coordinate
Relaxed" has become an indispensable keyword in recent fashion. The problem with such relaxed coordination is that it can give the impression of laziness.
To solve this problem, navy has recently begun to attract attention. Although dark in tone, navy is not as stoic as black, and it is ideal as a monochromatic color or as a tightener for any kind of coordination.
The key to this coordination is the use of a nuanced gray (with a slight olive tinge) color for the inner leather jacket in a simple long coat.
This is a great coordinate to try, as it gives off a modern and mature atmosphere regardless of whether you wear it with black, white, or navy.
Coordination (2) Coordinate using an orange knit cardigan that can be used as both outerwear and innerwear
This knit cardigan can be worn over a T-shirt like a G-jacket, of course, but in midwinter it can also be worn as outerwear over a leather jacket for a fresh, vivid look.
While basic cardigans are easy to use in terms of both color and size, you can also try to make a bold statement by using a bright orange, loose-fitting, well-designed model and aiming to make it the star of the coordinated look.
Coordination (3): Olive is a trendy color this season, too!
Due to the vintage boom of the past few years, real military items and collections influenced by them have been attracting a lot of attention. In proportion to this trend, olive green and khaki, the ironclad colors of military wear, have become the hottest colors.
The key point is the layered zip-up parka, which gives a good sense of power and casualizes the overall styling. Especially the hood that can be seen from the collar.
When wearing a long coat, don't forget that you can avoid looking too heavy by simply choosing a bright color for the inner top and bottoms.
Enjoy Fashion!
Model: 178cm/60kg
SNS
instagram: https://www.instagram.com/strum_official_store/
Twitter: https: //twitter.com/STRUM_OFFICIAL/
YouTube: https: //www.youtube.com/c/STRUMCH
TikTok: https://www.tiktok.com/@strum_official
LINE: https://lin.ee/JhEOnlg
500 yen coupon will be given to those who register on LINE!
STRUM FLAGSHIP SHOP
2-3-1 Higashiyama, Meguro-ku, Tokyo 153-0043
STRUM SECTION 1F
03-6303-0696
12:00-20:00 Closed on Wednesdays
https://strum.jp
STL064-05 ( size M)
STC153-02 (size M)
STL045-02 (size M )
STC124-02 (size L )
STJ002-TS01 ( Wearing size 30 inches )
STJ001-CR01 (Wear size 30 inches)
STJ002-TS02 (Wearing size 30 inches)
STB008-01 (Wearing size 27cm)