What is the best men's coordination for 15°C temperatures?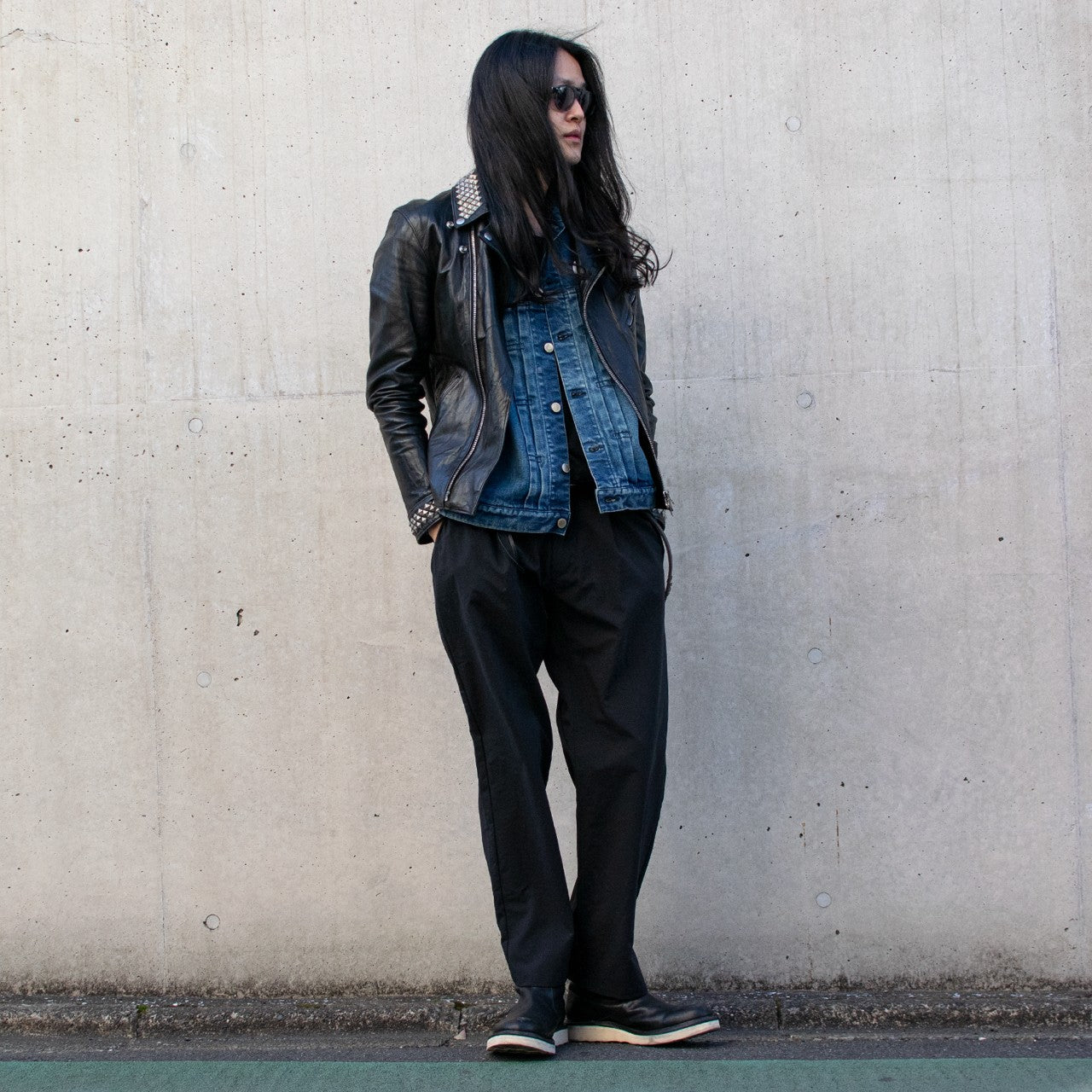 What to wear for a maximum temperature of 15 degrees Celsius?
Temperatures are often difficult to determine what to wear during the seasonal changes of spring, fall, and early winter. Temperatures tend to fluctuate widely, making it difficult to adjust temperatures, so we want to make the best choices.
On days with a maximum temperature of 15°C (59°F), it is recommended to choose outerwear with good thermal protection, such as a leather jacket.
Since everyone feels the temperature differently, it is recommended to fine-tune the temperature with an inner layer, such as a short-sleeved T-shirt or shirt for those who feel hot and a thin knit for those who feel cold. Morning and evening temperatures are especially cold, often falling below 10°C, so please be careful not to go out in light clothing.
In this issue, we introduce the best men's coordination for 15°C temperatures!
Optimal Coordinates for 15°C (59°F): Optimize for temperatures that are not too cold and go hard with a leather jacket.
Leather jackets are the best outerwear for temperatures that are not too cold, and can be worn with simple cut and sewn clothing to raise your masculinity to the next level.
Leather is tough, and the more you wear it, the more you will want to wear it hard. As in this case, you can also wear it with two-tuck slacks and enjoy a mix of clean and casual outfits.
We recommend layering a denim vest with a leather jacket for a rough look during this season. The probability of successful coordination increases if you are conscious of adjusting the balance elsewhere, such as using a wide slacks-type bottom to bring out a lightness that prevents the outfit from becoming too martial.

Coordinates best suited for 15°C temperatures (59°F) : A down vest provides a fashionable layered style without skimping on cold-weather protection.
A down jacket is one of the standard winter outerwear, but a down vest is the perfect item for early spring or early winter before the full-blown cold weather sets in. Oversized hoodies and flannel shirts

It can be worn over an oversized parka or flannel shirt for a modern American casual look, or as in this coordination, a loose-fitting pullover sweatshirt top andboxy wide straight jeans in black with a silhouette that changes when the front and back are tightened. You can also wear it in black with a mode look.
The open front is better than the closed front, so even if you are wearing black, you can enjoy a layered coordinate that does not look heavy and does not skimp on thermal protection.
Sneakers are also a good choice to keep the relaxed and laid-back look.
Enjoy Fashion!
Model: 178cm/60kg
SNS
instagram: https://www.instagram.com/strum_official_store/
Twitter: https: //twitter.com/STRUM_OFFICIAL/
YouTube: https: //www.youtube.com/c/STRUMCH
TikTok: https://www.tiktok.com/@strum_official
LINE: https://lin.ee/JhEOnlg
500 yen coupon will be given to those who register on LINE!
STRUM FLAGSHIP SHOP
2-3-1 Higashiyama, Meguro-ku, Tokyo 153-0043
STRUM SECTION 1F
03-6303-0696
12:00-20:00 Closed on Wednesdays
https://strum.jp
STL066-03(Wear size M)
STC123-06 (size M )
STJ002-BS01 (wearing size 30-34")
STC159-03 (wear size M )
STB007-01S (Wearing size 28cm)