Spring Outerwear Men's Special! Suede Horsehide CRANK Edition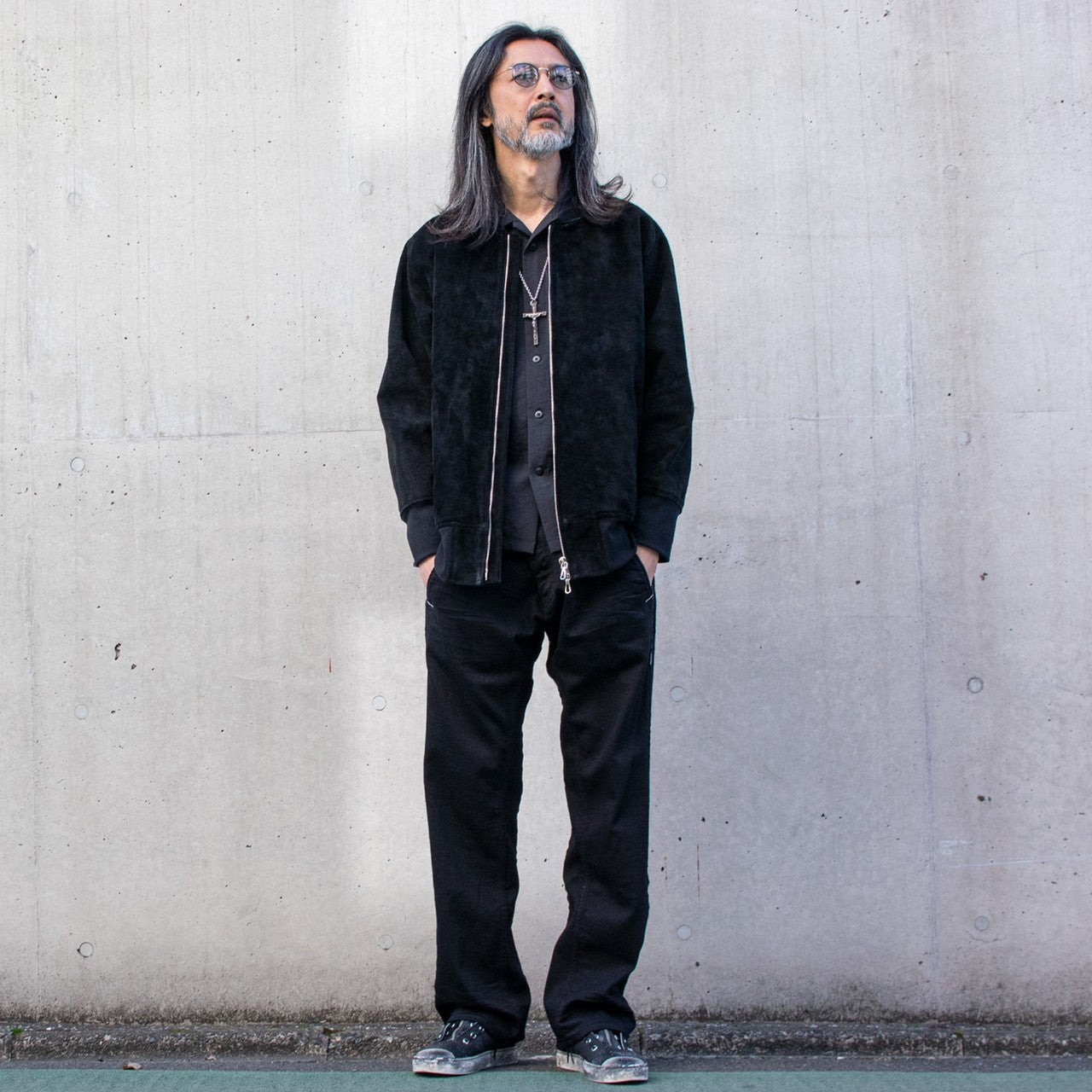 Spring outerwear essentials! Leather jacket!
Leather jackets with a heavy, hard look create a masculine atmosphere.
The appeal of leather jackets is their wide range of coordination options, from a rugged look with T-shirts and denim to a more mature, clean-cut look with suede.
This time, the new model " suede horsehide CRANK blouson I would like to introduce two coordinated looks using the new " Suede Horsehide CRANK Blouson!
Coordination 1: New "CRANK" with a minimalist finish
Based on a design that looks like a combination of a stadium jacket and a MA-1, the stoned box silhouette creates a mature atmosphere. The new "CRANK " is a leather jacket with a minimalist finish.
The use of suede and ribs gives "CRANK" a stylish, urban mood, and the shirt is a must-have coordinate. The loose-fitting black denim with a wide lek and sneakers give the look a relaxed feel.
To avoid the monotony of the same-colored styling, a pair of sunglasses in blue adds a fresh seasonal feel.
The cross necklace peeking out from the open front adds an accent to the simple styling that highlights the unique design of " BOXY IGGY.
Coordination 2: Suede "CRANK" and gray damaged jeans for a stylish tone-on-tone look
While highlighting the material contrast between suede and denim, the tone-on-tone is stylishly expressed with "CRANK " and gray damaged jeans "TIGHT JOE ". The entire body is put together in a clean, lean silhouette to emphasize the difference in materials and tones. In terms of tone, " CRANK" and jeans are matched, and in terms of material, suede boots create a sense of unity.
The reason why the innerwear in Coordinates 1) and 2) is a shirt is to take advantage of the characteristic top width of the " CRANK"and the collar that is lowered in the front. With a regular MA-1, the inner shirt collar does not stand out so much, but with "CRANK" it fits perfectly.
Enjoy Fashion!
Model: 182cm/65kg
SNS
instagram: https://www.instagram.com/strum_official_store/
Twitter: https: //twitter.com/STRUM_OFFICIAL/
YouTube: https: //www.youtube.com/c/STRUMCH
TikTok: https://www.tiktok.com/@strum_official
LINE: https://lin.ee/JhEOnlg
500 yen coupon will be given to those who register on LINE!
STRUM FLAGSHIP SHOP
2-3-1 Higashiyama, Meguro-ku, Tokyo 153-0043
STRUM SECTION 1F
03-6303-0696
12:00-20:00 Closed on Wednesdays
https://strum.jp
STC159-01 (Wear size M )
STJ002-TS06( worn size 30")
STJ002-BS01( Wearing size 30-34 inches)