The late spring and summer seasons are anticipated with the feet!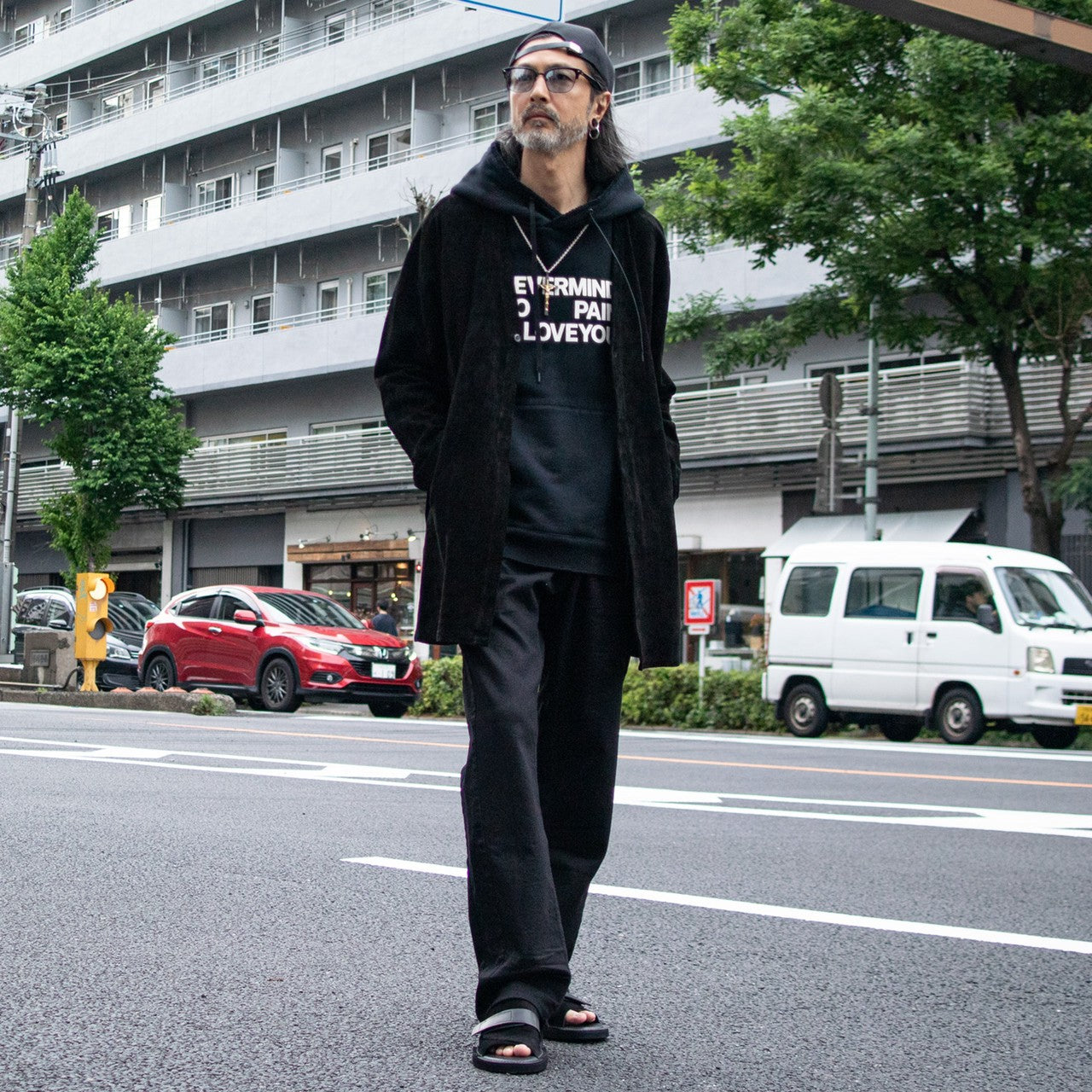 As the seasons change, we want to be aware of how to dress with an appropriate sense of the season
The refreshing spring has passed, and summer is coming. With the change of seasons, it is important to dress appropriately with a sense of the season in mind. For example, just by wearing leather sandals with your spring outfits, you can create a sense of the season as you transition into summer.
In this issue, we introduce three looks featuring feet, which are important for coordination!
Coordination (1): Monotone style with a hint of haziness with leather sandals

This coordinate combines a leather cardigan with a smooth, elegant texture and roomy silhouette that is hard to believe it is suede, and the entire look is all in black.
The bottoms are wide silhouette jeans, and black suede sandals are worn barefoot for a look that accentuates the footwear.
The cap, hoodie, and sandals tend to create a sporty atmosphere at first glance, but by keeping everything black except for the logo print on the top and choosing a suede cardigan, an adult casual look is completed without being obnoxious.
The short, elegant velour upper part of the sandals also plays a role in adding a nice touch of sophistication without ruining the neatness of the look.
Coordination 2: The summery rock coordinate created with leopard shorts is tightened up with suede engineer boots!
This outfit expresses a casual and rough mood with a wide T-shirt and shorts.
While a pair of sandals or lightweight sneakers would complete this light and summery coordination, suede engineer boots were chosen for the feet to add a sense of weight.


If you want to tie the shorts together with a leather jacket and boots for a rock-tastic, hard-core look, rather than going for the full casual look, please refer to this way of using boots.
Also, those who have narrow legs and avoid wearing shorts can easily take on this challenge. The boots add volume to the legs so that only the legs are not thin and the balance is improved.
Coordination ③: Choose black sweatpants with ribs to highlight the sneakers
Sweat pants go great with sneakers. In particular, ribbed sweatpants with a cinched hem are a sure bet if you want to coordinate with your favorite sneakers as the centerpiece of your outfit.
Sneakers stand out because of the elegant silhouette of these bottoms, which have a clean waist and a balance between the crotch and inseam.
Also, the sporty combination of sweatpants and sneakers is matched with a denim shirt, which is one of the most fashionable shirt items.
Western-style denim shirts in particular have a casual atmosphere that matches well with this combination.
For a more modern look, choose a slightly loose fit rather than a tight fit and match it with loose bottoms.
Enjoy Fashion!
Model: 182cm/65kg 178cm/60kg
SNS
instagram: https://www.instagram.com/strum_official_store/
Twitter: https: //twitter.com/STRUM_OFFICIAL/
YouTube: https: //www.youtube.com/c/STRUMCH
TikTok: https://www.tiktok.com/@strum_official
LINE: https://lin.ee/JhEOnlg
500 yen coupon will be given to those who register on LINE!
STRUM FLAGSHIP SHOP
2-3-1 Higashiyama, Meguro-ku, Tokyo 153-0043
STRUM SECTION 1F
03-6303-0696
12:00-20:00 Closed on Wednesdays
https://strum.jp
STL061-08 ( size M)
STL064-01 (size S )
STJ003-OG01( size worn M)
STC113-01 (size M)
STJ002-BS01 ( Worn size 30-34 inches)
STB009-01 (Wear size 27cm)
SSB001-01 (Wearing size US9)