Introducing different types of innerwear for leather jackets in autumn and winter!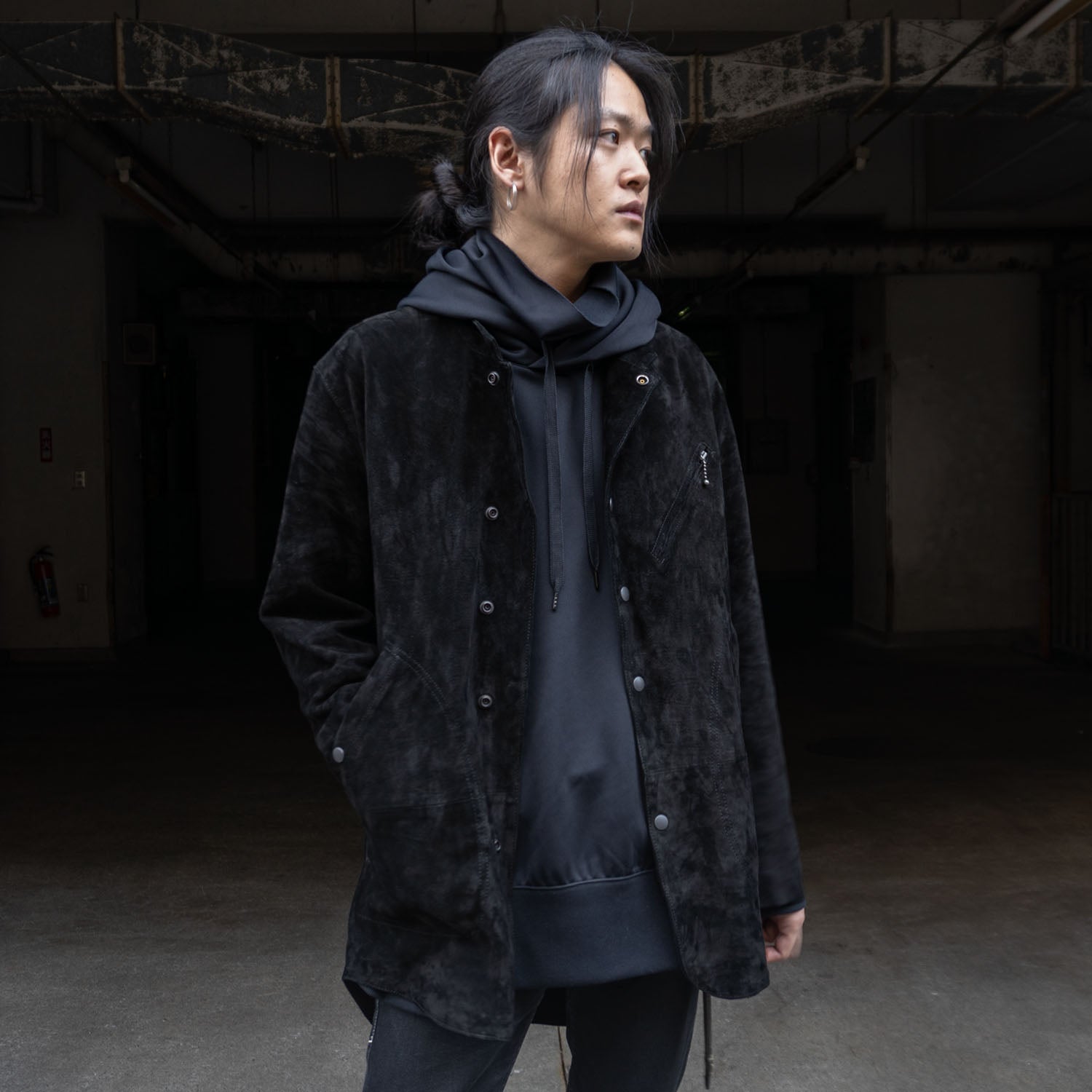 Using innerwear in autumn and winter to accentuate coordination
Leather jackets, which will be active from now on in the fall and winter, can be coordinated in various ways by simply changing innerwear depending on the scene or your mood.

In this issue, we pick up four innerwear items that go well with leather outerwear, depending on the type!
Recommended innerwear (1): Shirt is the ironclad choice! Good compatibility is the key!
Shirts and cut-and-sewns are the standard innerwear for all leather jackets, and can be used all year round.
Leather riders, for example, tend to be casual in design, so they are often coordinated with cut-and-sewns, but in the fall and winter, cut-and-sewns alone may be too cold and uncomfortable. For this reason, shirts are often worn in the V-zone during this season. It is recommended to choose a shirt with a shirt collar that gives a three-dimensional effect to the V-zone during this season.
Recommended innerwear 2: If you want to look beautiful, go for a semi-formal mock neck!
If you want to make your double riders jacket coordinate look more beautiful than a cut and sewn crew neck, a mock neck is recommended.
In most foreign countries, it is not even caught in the dress code of high-end restaurants, and is recognized as the second most semi-formal innerwear after shirts.
In addition, since the neck is covered, it is more insulating than a crew-neck knit. It is one of the items that should always be an option as an innerwear for fall and winter.

Recommended innerwear ③: Combine with a hoody that has a stand collar but still makes a strong statement
One of the advantages of using a hoodie as an inner layer is that it can cover the lack of outerwear with a modest neck design. Also, with outerwear that has a high collar in the opposite direction, it is difficult to tell what to wear as an innerwear, avoiding the same impression all the time.
In this case, the fashionable look is enhanced by incorporating the same color with different materials, such as a shiny black cordura hoodie and a matte black suede tramper coat.

Recommended innerwear 4: The standard for casual innerwear in fall and winter is crew-neck knitwear.
Knit sweaters are the most popular in fall and winter. Crew-neck knitwear is a standard innerwear item for fall and winter, as it is similar to T-shirts, easy to match, and provides warmth. If you want a classic and elegant look, you can accentuate it with a black or blue knit to make it look more ordinary.
Since it is worn as an inner layer, the size is important, so choose the right size, not oversized, but slightly loose.
Enjoy Fashion!
Model: 178cm/60kg
SNS
instagram: https://www.instagram.com/strum_official_store/
Twitter: https: //twitter.com/STRUM_OFFICIAL/
YouTube: https: //www.youtube.com/c/STRUMCH
TikTok: https://www.tiktok.com/@strum_official
LINE: https://lin.ee/JhEOnlg
500 yen coupon will be given to those who register on LINE!
STRUM FLAGSHIP SHOP
2-3-1 Higashiyama, Meguro-ku, Tokyo 153-0043
STRUM SECTION 1F
03-6303-0696
12:00-20:00 Closed on Wednesdays
https://strum.jp
STL078-02 ( size M)
STL066-09 ( size L )
STC164-03 (Wear size M)
STC163-02 (Size M)