Spring Outerwear Men's Special! Burning Dye OVER ROAD Edition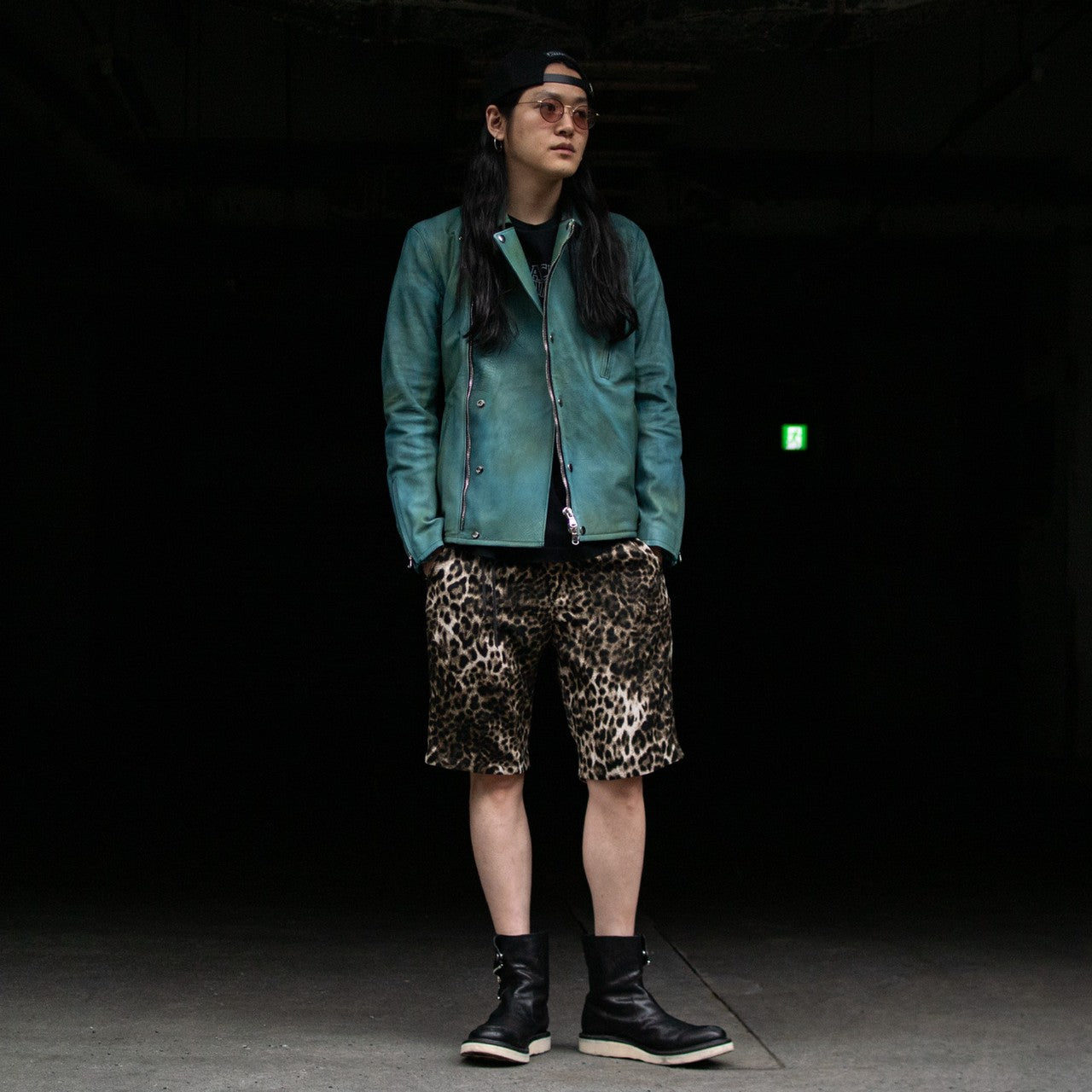 Spring/Summer outerwear essentials! Leather jacket!
Men's outerwear "leather jacket" that can add a rugged flavor to your coordination
It has a wide range of coordination options, from a rock hard look to a more beautiful look.
In this issue, we will introduce the new " Japan Calfskin BurningDyed OVER ROAD ", and two coordinated outfits using it!
Coordination 1: Make the most of the new "OVER ROAD" design
The new "OVER ROAD" has been released with an emphasis on comfort as street wear, reconstructing a shape originally created for riding motorcycles. The shoulder slopes and back climbs have been minimized, and the pattern has been produced with an emphasis on comfort in everyday wear.
The actual repattern was only a few millimeters, but it is surprisingly comfortable.
The gentle sloping of the shoulders also moderates the angle of the c-shaped opening at the hem, which is unique to the riders, and the boxy silhouette is characterized by its stooped shape.
The front has a zipper and snap buttons, and the boxy silhouette can be shaped at the waist by fastening the snaps.
As shown in this coordination, the double zipper can be opened more boldly from the top and bottom than usual to make the most of the new "OVER ROAD" design.
If the leather jacket is the main item in the outfit, add crushed jeans or leopard sneakers to the bottom to add accent and active impression to the styling.
Coordination 2: Add shorts to "OVER ROAD" to give it a seasonal look
Leather jackets have a strong image of rock and ruggedness, but for spring and summer style coordination, we would like to focus on the combination with shorts.
This season, styling with loose silhouettes and a mischievous feel, but without forgetting elegance, is gaining support from highly-sensitive men. What can be used to produce such a style? Boyish shorts made of beautiful woven fabric with a relaxed silhouette and easy to move around in. The shorts are made of a beautiful woven fabric and have a relaxed silhouette.
By exposing bare legs, these shorts can create a cooler seasonal and more active look than full-length bottoms.
Sneakers or sandals can be used for the feet, but short boots are a must if you want to match the balance and atmosphere with the leather jacket.
Match with a mesh cap for a more active look.
Enjoy Fashion!
Model: 178cm/60kg
SNS
instagram: https://www.instagram.com/strum_official_store/
Twitter: https: //twitter.com/STRUM_OFFICIAL/
YouTube: https: //www.youtube.com/c/STRUMCH
TikTok: https://www.tiktok.com/@strum_official
LINE: https://lin.ee/JhEOnlg
500 yen coupon will be given to those who register on LINE!
STRUM FLAGSHIP SHOP
2-3-1 Higashiyama, Meguro-ku, Tokyo 153-0043
STRUM SECTION 1F
03-6303-0696
12:00-20:00 Closed on Wednesdays
https://strum.jp
STL067-07 ( size M)
STC113-01P01 (Wearing size M )
STJ002-TS06C( Wearing size 30")