How to wear a long gown, a hot item?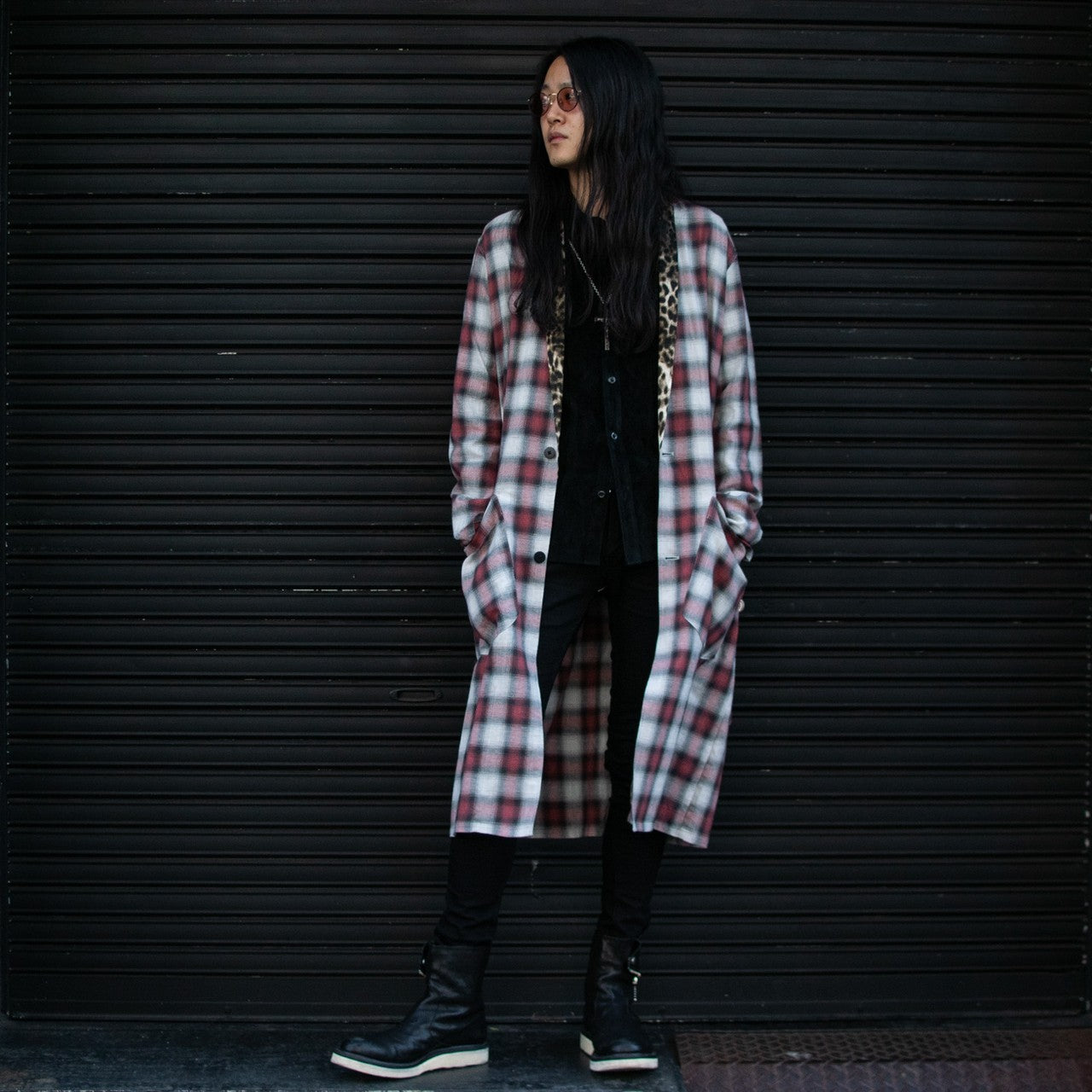 Gowns are a hot item that can be worn casually and add a fashionable touch!
Gowns" can be worn casually like a shirt and are ideal for these days when the temperature difference between morning and evening and during the day is remarkable.
Just by wearing a gown, you can create an uncharacteristically fashionable look, and if you choose a loose-fitting gown, you can combine it with a leather jacket as well.
This time, we pick up two men's coordinates using " gowns"! This time, we pick up two men's coordination using "gowns"!
Coordination 1: Leopard and check "gowns" add flair and impact to a simple outfit
Just by adding a leopard and check long gown to a simple outfit of a black shirt and jeans, you can create a gorgeous men's coordination.
The loose silhouette gives a sense of comfort, and the long length creates a fresh balance.
The calf suede leather shirt set in the inner lining adds a different presence to the styling than the woven fabric.
If the long "gown," with its bright colors and impactful check and leopard prints, is to be the star of the show, matching a pair of slim black skinny jeans with the bottoms will create a stylish and mode-inspired coordinate.
The key to a smart look is to avoid using bright colors in items other than the gown.
Try this technique when you want to coordinate items that have an impact.
Coordination #2: Match items made of different materials to make a long-length "gown" look light and airy.
The combination of a used denim shirt and jeans with a masculine look and a long gown made of rayon twill with a supple, relaxed feel completes an elegant and beautiful coordinate while retaining a casual feel.
In spring and summer, black tones tend to make you look heavy, and this can be avoided by using an inner layer that is lighter in tone than the outer layer.

When the center of gravity tends to be lower with a large proportion of long gowns, add sunglasses or a necklace to the coordination to draw the eye upward for a more vertical effect.
Don't forget to link the colors of the shawl collar with those of the leopard and engineer boots to create a sense of fine unity.
Enjoy Fashion!
Model: 178cm/60kg
SNS
instagram: https://www.instagram.com/strum_official_store/
Twitter: https: //twitter.com/STRUM_OFFICIAL/
YouTube: https: //www.youtube.com/c/STRUMCH
TikTok: https://www.tiktok.com/@strum_official
LINE: https://lin.ee/JhEOnlg
500 yen coupon will be given to those who register on LINE!
STRUM FLAGSHIP SHOP
2-3-1 Higashiyama, Meguro-ku, Tokyo 153-0043
STRUM SECTION 1F
03-6303-0696
12:00-20:00 Closed on Wednesdays
https://strum.jp
stc157-01( size m)
STC156-03( Wear size M )
STJ003-OG01 ( Wear size M)
STJ002-SN01( Wearing size 28 inches)
STJ001-TS02 ( Wearing size 30 inches)
SSB001-01 (Wear size US 9)