CONCEPT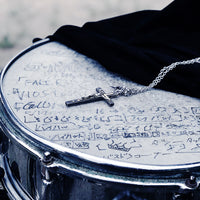 STRUM ~Stirring
Designer Kazuo Kuwahara
I named the name "STRUM" with the idea that my own style will become a first-class one by continuing to play as I wish, even if it is poorly.
The idea is to connect and give shape to our thoughts.
From tanning to dyeing, processing, and finishing, we pursue unparalleled leather that makes the most of the characteristics and texture of leather.
The tight silhouette of the garments is designed with an emphasis on comfort and functionality, and the simplicity of the garments is reflected in the designers' work.
The designer's clothes and accessories are designed to evoke the sounds and images of the past.
Leather with a "burning dyed" experience.
STRUM" is a leather brand with a flagship store in Nakameguro, Tokyo.
The presence of a leather jacket is similar to life.
It grows in depth and thickness, and becomes more attractive.
Leather, denim, and jeans become a part of the leather, and the scratches and scars become a part of the leather.
Strum's Burning Dye Riders are the ultimate experience of burning.
From the first day you put your sleeves on it, it will become a reliable and experienced partner.
IDEOLOGY